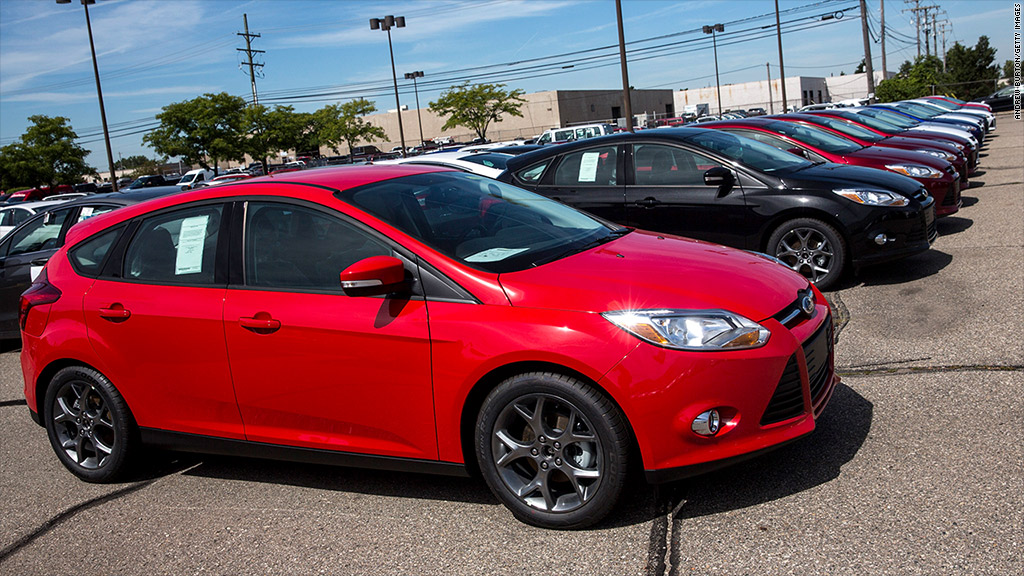 Is the American consumer finally spending again after a rough winter? Sorta.
The government reported Thursday that overall retail sales rose 1.2% from April to May. And sales were up 2.7% from a year ago.
At first blush, this is a great sign for the economy. There have been numerous concerns about lackluster retail sales this year.
Experts were surprised by the slump because they thought lower gas prices would be like a tax refund that consumers would happily spend.
Instead, many Americans paid off debt and put money into savings accounts.
Related: America has added over 1 million jobs this year
But a strong jobs report for May could mean that consumers are now more confident. Wage growth picked up ... and that's key.
Economists at Barclays headlined their report about the retail sales figures "Welcome back US consumer" (A nod to the classic sitcom "Welcome Back, Kotter" and CNN"s show on "The Seventies" perhaps?)
And Capital Economics declared that the numbers "confirm unequivocally that the earlier weakness in spending was a temporary weather-related blip."
Yet when you dig deeper, you'll see some notable pockets of strength and weakness in the land of retail. Consumers are still watching what they spend.
Here's some of the things they are buying.
Cars. Sales of motor vehicles and auto parts were up 2% from April and 8.2% from a year ago.
Detroit's Big Three -- GM (GM), Ford (F) and Fiat Chrysler (FCAU)-- are all doing well. So is Toyota (TM).
Dinner and drinks out. Who says low gas prices aren't helping the economy? It looks like consumers were happy to get in their car and drive to their local restaurant or bar.
Sales from food services and drinking places rose 8.2% from a year ago, compared to a 3.4% jump at grocery stores.
Related: Maybe the U.S. economy isn't tanking after all
What's more, people spent more eating out ($51.5 billion) than at supermarkets ($50.5 billion.)
Stuff for the home. Here's another sign that the housing recovery seems to be for real. Sales at building material and garden equipment supplies dealers were up 6.2% from last May. Translation: Business is good at Home Depot (HD) and Lowe's (LOW).
Sales at furniture and home furnishing stores rose 6.2% as well. That's good news for companies like Williams-Sonoma (WSM) and Bed Bath & Beyond (BBBY).
But sales slumped in May in other areas.
Electronics. Sales were down 1.7% from last year. So much for all the enthusiasm about the iPhone 6 and Apple Watch and a new Galaxy from Samsung.
It shouldn't be a huge surprise though. Best Buy (BBY)may have wowed Wall Street when its latest results topped forecasts. But its sales actually dropped from a year ago.
Mass merchandise. The category that the government calls general merchandise reported a 0.4% dip from last year. That could reflect the weakness at Walmart (WMT) as well as another disastrously bad quarter from Sears (SHLD).
Related: Kmart's sales have fallen off a gigantic cliff
And sales at department stores, a subcategory of general merchandise, dropped 3%. Macy's (M) and Kohl's (KSS) both reported sluggish sales for the most recent quarter.
Gas stations. This was actually the weakest category of all. Sales plunged 18.6% from last May. Of course, that's mainly due to the fact that the price of gas is significantly lower than this time a year ago.
So the drop in gas station sales is probably not something to be worried about.
But it's worth noting that gas station sales rose 3.7% from April as oil prices rebounded. That's a trend that bears watching. Hopefully, higher energy prices won't put an end to the overall rebound in consumer spending.