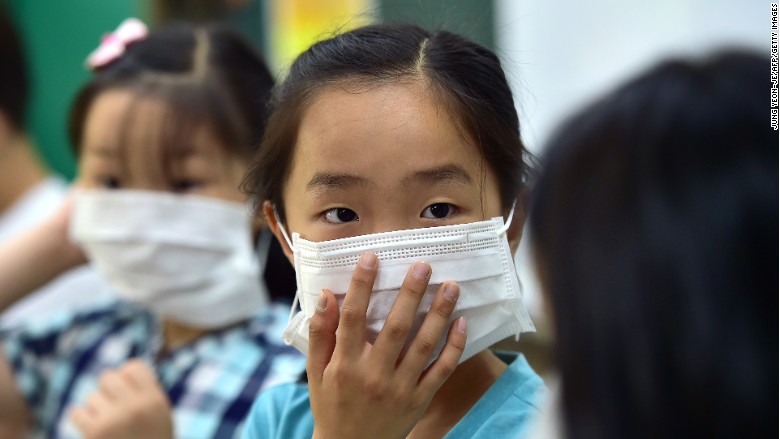 South Korea's economy was looking shaky even before an outbreak of Middle East respiratory syndrome killed 10 people. Now the risks are rising fast.
The country's central bank warned Thursday that MERS posed a significant threat, and cut its main interest rate to a record low to try to contain the fallout.
By making it cheaper for companies and households to borrow, the Bank of Korea is hoping to stoke domestic demand.
One of the 122 confirmed cases of MERS includes a pregnant woman, and more than 3,800 people have been placed under quarantine.
"Risks to the domestic growth path ... have expanded, owing mostly to the sluggishness of exports and to the impacts of the MERS outbreak," the bank said.
South Korean officials are now frantically trying to contain the disease, as concerns rise around the region.
More than 2,400 schools have been shut, and tourists and business travelers have canceled visits. Restaurants, transport firms and exhibitions have taken a hit.
According to analysts at RBS, some 25,000 people canceled trips to South Korea over a three-day period this week. Stocks dropped sharply in Hong Kong on Wednesday as tests were carried out on patients suspected of having the disease. No cases have yet been confirmed in the Chinese territory.
Related: South Korea braces for 'most important period'
South Korea's economy is home to major global companies such as Samsung (SSNLF) and Hyundai (HYMTF), and heavily dependent on exports. Domestic consumption has been weak in recent months, and external demand has slowed.
The International Monetary Fund warned last month that officials should take measures to stimulate the economy if signs of a recovery did not emerge soon. It expects growth to stagnate around 3.3% this year.
Analysts say the scale of the damage caused by MERS will depend on the scope and duration of the outbreak.
Asian countries know only too well how bad it can get. SARS, or severe acute respiratory syndrome, swept through the region in 2003, stopping local economies in their tracks. Some 774 people were killed by the disease, 40% of them in Hong Kong. Housing prices in the city tumbled, and regional trade was disrupted.
"If Asia's experience with SARS is anything to go by, MERS could have a short-lived but quite sharp negative impact on Korea's economy," wrote Krystal Tan of Capital Economics in a research note.
Patrick Chovanec, managing director at Silvercrest Asset Management, said the impact of the current MERS outbreak could be blunted by an effective government response, something that was missing during the SARS outbreak.
"The economic impact here is really going to depend on how aggressively the South Korean government moves to contain the disease, and also create a sense of confidence that they are containing the disease," he said. "Right now we're just feeling the initial effects."