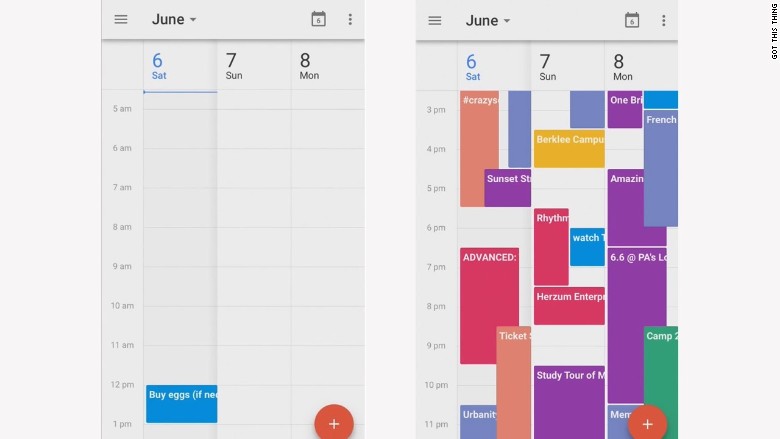 Your friend is moving Saturday. Are you free to help?
The real answer is yes. The honest answer is no, because you're a human being and not a forklift. And also because you guys aren't really that close.
If only you had something else planned so it would be easier to say no...
"Got This Thing" is just that. The Web app uses your phone's location to populate your Google calendar with local stuff that's happening, pulled from public event information on sites like Eventbrite.
Click on the "Get Busy" button and in an instant -- your blank schedule turns into a confetti of things to do.
You can add different categories, such as "Unquestionable Charity Events," "Legit Lectures," and "Non-BS Brooklyn Things," and share your fake calendar of real events with other people, so you can support each other with your lies.
You can even choose how busy you want to appear.
There are three degrees: "Busy," "Super Busy," and one called "Go F--- Yourself," which basically drops dozens of overlapping events into one time slot.
When you want to get rid of all the stuff you added, just click "Go Clear."
Nat Towsen, a 29-year-old comedian from Manhattan, conceived the idea in May during New York City Comedy Hack Day.
The three-day event paired developers and comics together to build humorous apps. Towsen and his team spent about two days coding and preparing for the final pitch. They were ultimately crowned the grand prize winner's for this year's festival.
"We are looking for investors," Towsen told CNNMoney. "We have publicly announced that we want to raise a trillion dollars."
The amount may be a joke, but the app and the fact that GTT wants to raise money -- are not.
GTT "officially launched" on Tuesday at a New York City Tech Meet Up, where Towsen and his four-man team demoed the app in front of hundreds of people.
The event attracted some funding interest, according to Towsen, as well as people who say they want to work for GTT.
More than a thousand people from 10 different countries have used the free service, and in the future, Towsen hopes to pull events from other sites, including Facebook.
The app has real potential as an event aggregation and discovery tool. It could make it easy for people to find things to do without having to do much. Companies could also pay GTT to promote conferences, concerts, and other get-togethers.
But, Towsen says half jokingly, all of that is secondary. "It's for people who want to avoid doing things."
Read: The iPhone will track how often you have sex