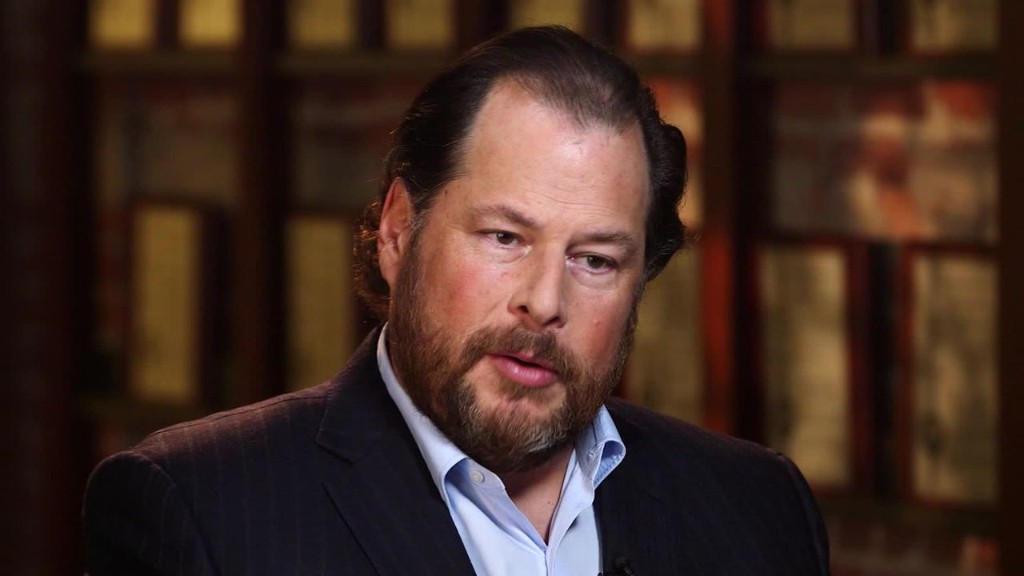 America should have a $15 minimum wage.
That's what billionaire Marc Benioff, the founder and CEO of Salesforce.com (CRM), believes. Corporate leaders need to do a better job of balancing the needs of their employees with the desires of their shareholders, he argues.
Benioff applauded Los Angeles for deciding to raise the city's minimum wage from $9 an hour to $15 by 2020.
"I love that, and I think we should do that for the whole country," Benioff told CNN's Poppy Harlow from the software company's San Francisco headquarters. "That's one way to bring everybody up."
Benioff criticized companies that fail to pay their employees enough money to afford the rent in the city they work in.
"You can't be giving all these folks at Fortune 25 companies positions where they are in poverty. That makes no sense to me," he said.
Related: Los Angeles is now largest U.S. city with $15 minimum wage
Benioff's campaigns: In recent months Benioff, who founded Salesforce in 1999 from a rented apartment, has made a name for himself as an outspoken corporate leader. The tech billionaire strongly pushed back against Indiana's controversial religious freedom law this spring. Benioff even supplied relocation packages for employees in Indiana who were uncomfortable with the law.
Benioff also told CNN he wants Salesforce to ramp up its hiring of women. The goal is to make the cloud computing company 50/50 within five years. The company is with less than 30% female today.
CEOs too focused on profits: Benioff's call for a $15-an-hour minimum wage goes a step further than what even the White House has campaigned for. President Obama and Congressional Democrats have pushed to raise the minimum wage to $12 an hour.
Many businesses have pushed back against that proposal, saying it's too aggressive and would hurt the economy since companies that simply can't afford to boost pay would end up laying off workers.
But Benioff says that's an outdated belief that focuses too much on what investors want.
"I think they can't afford it only because they are holding themselves to EPS goals that are maybe unrealistic," Benioff said, referring to Wall Street's closely-watched profitability targets known as earnings per share.
Related: Salesforce CEO: I didn't focus on hiring women then but now I am
Wage hike could spark layoffs: Yet others say this is too dramatic of a step, particularly given the fact that inflation has remained relatively tame.
"As a nation, I don't think we should follow Los Angeles's path. That's too steep of a curve, even by 2020" Russell Price, senior U.S. economist at Ameriprise Financial, told CNNMoney.
While a $15 minimum wage might make sense for pricey metro areas like L.A., it would cause companies in other areas to go out of business, he said. "There would be a lot of job losses."
However, Benioff believes a big wage hike needs to occur simultaneously with "dramatic" tax reform. In theory, that could make it an easier pill to swallow for businesses.
Benioff's minimum wage call is part of a broader argument he's making: The old business school mantra that shareholder returns are paramount is outdated.
"The most important thing that matters is the stakeholder return. You have many different stakeholders. Each one has to be taken care of. You need to rise them all up," he said.