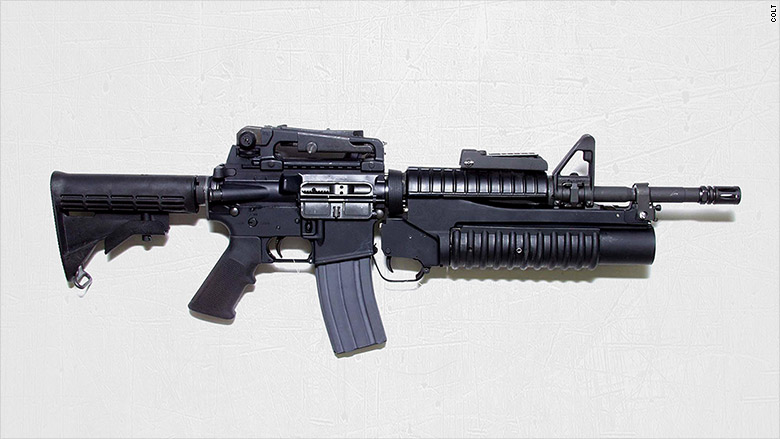 The legendary American gun maker Colt Defense has filed for bankruptcy, but says that will not affect its business operations.
Colt, which has been making guns for 160 years, on Sunday sought bankruptcy protection in Delaware.
The company, based in West Hartford, Conn., said the filing with allow an "accelerated sale" of its business operations in the U.S. and Canada.
Sciens Capital Management, an investment management firm in New York with a stake in Colt, has agreed to purchase the company's assets and assume its liabilities.
Colt said it "intends to continue its normal business operations through the accelerated sale process" and will keep its management team in place, including CEO Dennis Villieux.
The company has been struggling financially and missed a $10.9 million interest payment on its debt in mid-May.
Related: Iconic gunmaker Colt is on the brink of bankruptcy
"While entering Chapter 11 protection in the absence of a consensual agreement with our noteholders was not our preference and we do not take it lightly, we are confident it is the best path going forward," said Keith Maib, chief restructuring officer of Colt Defense, in a statement.
He said the filing will allow Colt "to restructure its balance sheet while meeting all its obligations to customers, vendors and employees."
The process is expected to take 60 to 90 days, said Colt.
Colt has been one of the leading names in the gun industry ever since the 1840s, when the Texas Rangers adopted Sam Colt's revolver for the Wild West wars against the Native Americans. Some 70 years later Colt developed the 1911 semiautomatic .45 caliber pistol, which was used for more than 80 years by the U.S. Army, through both World Wars, Korea and Vietnam.
Related: My 'Lethal Weapon' moment with Beretta
Colt is still a supplier to the U.S. military, with its M4 carbine and M203 grenade launcher. But military spending is winding down, which has affected sales. The company also lost its competitive edge against rivals like Smith & Wesson (SWHC) and Sturm Ruger (RGR).
Colt, which built its business on handguns, has failed to capitalize on the current popularity of handguns for concealed carry. Colt makes compact pistols like the Mustang and Defender, but customer seem to prefer Glock, especially its newly released pistol, the G43.
According to Kevin Starke, gun industry analyst for CRT, there Is also a problem with leadership, and it's "hostile" relationship with Colt's workers.