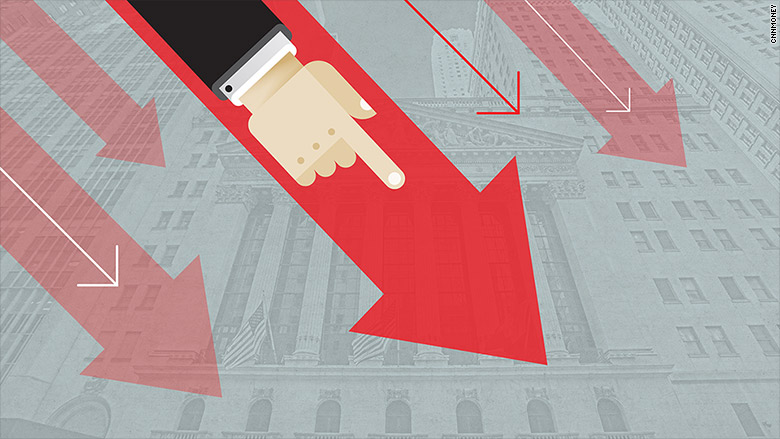 What can be better than buying great companies for the long term at a good price?
Occasionally, these opportunities occur when the markets turn south, and investors have the chance to invest in top-notch businesses at attractive valuation levels. Trying to time the markets is practically impossible, so we don't encourage it. However, being prepared with a shopping list in case there's an opportunity is a smart approach.
With this in mind, we asked our contributors to share with us three promising stocks to buy if the market crashes. Read on to see why names such as Chipotle Mexican Grill (CMG), Walmart (WMT), and Under Armour (UA) popped up during the conversation.
Brian Stoffel picks Chipotle Mexican Grill: Chipotle is one stock I'm hoping will fall significantly. Currently, the company trades for 40 times earnings and 40 times free cash flow. While that's not ridiculously expensive, I would much rather pay less.
Related: I just bought my first stock ever: Starbucks
It's impossible to deny the company's success. At a time when most restaurants would be thrilled to show a 5% gain in same-store sales, Chipotle has been producing eye-popping numbers during the past year. In 2014 alone, same-store sales increased 16.8%. I can't underscore how impressive that is for a chain that has more than 1,700 locations.
To add to it, the company has three other traits I love. First, it's led by its founder -- co-CEO Steve Ells still helps run the company he founded back in 1993.
Second, the company has optionality: It's testing different types of stores (Asian and pizza) that could replicate the main brand's success. And third, the company has a strong balance sheet with zero debt and $890 million of cash on hand.
Each of these traits, combined with the company's pricing power and strong brand appeal, make Chipotle a promising holding over the long-term.
Related: Calm down. U.S. stocks are likely to keep going up for now
Dan Caplinger picks Walmart: History shows that, even in tough financial times, you can generally count on certain companies to hold their own, and even thrive. Discount retail giant Walmart has a well-established track record of enduring past bear markets, with the Dow component being among the few stocks that managed to post positive returns during the financial crisis year of 2008.
Recently, Walmart has gone through struggles of its own, with competition attacking it from both sides. Other big-box retailers have worked hard to differentiate themselves from Walmart, with efforts to bring in name-brand designers that give their products an aura of exclusivity that stands out compared to more pedestrian offerings. At the same time, deep-discount retailers like dollar-store chains have eaten away at Walmart's base of middle-class customers, with better prices and more convenient locations.
Despite these difficulties, though, Walmart trades at a reasonable valuation of less than 15 times earnings, and has potential for further growth. With a market crash likely to hurt economic prospects for consumers across the nation, the resulting flood of bargain-hunting shoppers could actually help Walmart -- just like it did seven years ago. That's no guarantee that its stock will rise, but Walmart offers a better margin of safety than many other consumer stocks right now.
Related: Social Impact Bonds: An Exciting New Way to Invest
Andres Cardenal picks Under Armour: Under Armour is clearly firing on all cylinders on the back of growing brand recognition, a reputation for quality and innovation, and an aggressively competitive management team led by founder and CEO Kevin Plank.
Sales have increased at an amazing 29.2% annually during the last five years, and there is no slowdown in sight based on the latest financial reports. Total revenues grew 25% year over year to $805 million in the first quarter of 2015. Also, performance was quite healthy across the company's different segments: apparel sales grew 21%, footwear revenues increased 41%, and international revenues jumped 74% versus the same quarter in the prior year.
Under Armour benefits from multiple growth drivers delivering impressive performance, and the company still has a lot of room for expansion. Under Armour is still about one-tenth the size of rival Nike (NKE) on a sales basis, and the company brings in only 12% of sales from international markets, while Nike produces more than half of its revenues from abroad.
Slam dunk: Under Armour wows again
The biggest drawback for investors in Under Armour is valuation, as the stock trades at a demanding forward P/E ratio in the neighborhood of 55 times earnings forecasts for 2016. Under Armour is the typical case of a high-growth company trading for an aggressive valuation; hence, it's a great candidate to buy if market volatility provides an opportunity to invest in such a top-quality name at cheaper prices.
The Motley Fool recommends Apple, Chipotle Mexican Grill, Nike, and Under Armour. The Motley Fool owns shares of Apple, Chipotle Mexican Grill, Nike, and Under Armour.
Sponsored content from The Motley Fool
Warren Buffett Admits This Is A "Real Threat"
Tiny Company Powering Apple's Biggest Hits