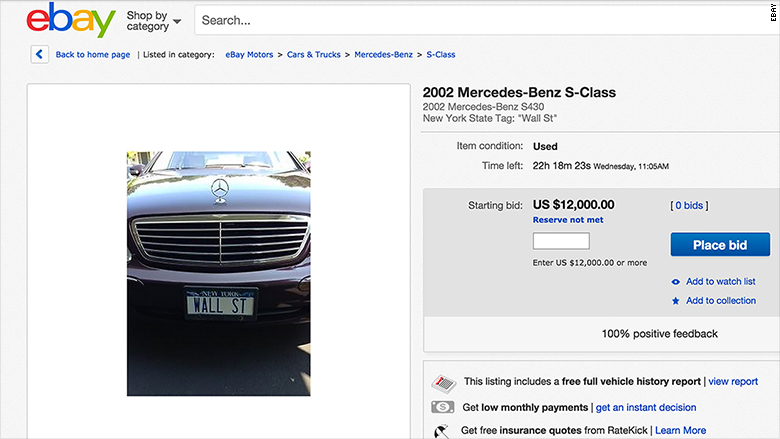 It's perhaps the ultimate symbol of greed: a license plate with the letters "WALL ST" is for sale on eBay.
An eBay user listed his New York State "Wall Street" plates for $12,000 (along with his 2002 Mercedes-Benz S430).
No bids are in so far on the plates/car combo, but don't wait: the auction ends Wednesday at 11:05 a.m.
The seller told CNNMoney that he originally bought the plates in 1975 when New York first stated to issue vanity license plates. In New York state, you get two plates -- one for the front and one for the back.
He was working at the brokerage firm E.F. Hutton at the time. Before he owned the Mercedes, he had the plates on his 1976 Chrysler Cordoba.
The winning bidder won't be the only driver telling the world that he or she loves big banks. Morgan Stanley executive Robert Kindler once had a license plate "2BIG2FAIL" after the financial crisis. The plate didn't strike some as tactful. He later changed it to "MNA GUY".