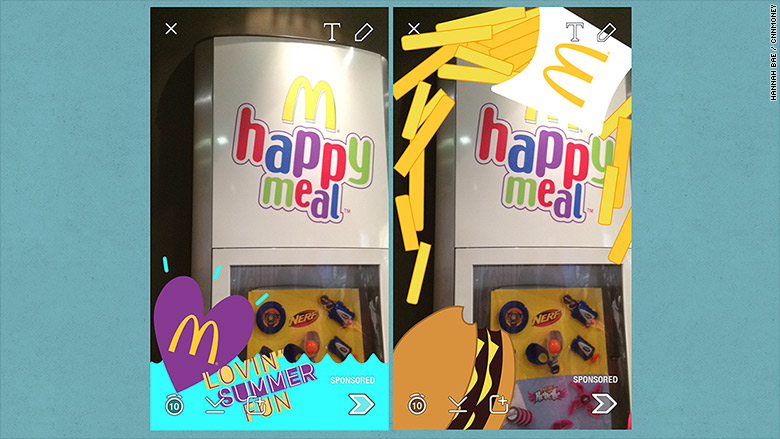 A McDonald's cheeseburger may pop up on your Snapchat this summer when you are near one of their golden arches in an effort to feed Snapchat's growing appetite for profits.
McDonald's has created a set of sponsored filters for Snapchat featuring a cheeseburger and fries, and a purple heart with the McDonald's logo and the text "Lovin' Summer Fun."
Snapchat users discovered the new illustrations this week when they were near or inside a McDonald's (MCD) location. Both companies did not immediately respond to requests for comment.
Filters have been part of Snapchat's platform for a year, but McDonald's location-triggered illustrations means Snapchat is trying a new way to make money on its mobile platform.
The restaurant chain may be one of the first businesses to partner with Snapchat on this revenue initiative, but if this trial run is successful, it's probably inevitable that more companies will follow suit.
Snapchat is one of the fastest growing messaging platforms out there, especially in the U.S. By some estimates, the app has more than 200 million monthly active users.
Considering it's been around for about four years, this growth is especially impressive when compared to more mature apps. Twitter, for example, only has 302 million monthly active users after almost a decade.
The majority of Snapchat users are also young and female, which makes the app attractive for advertisers.
Despite this revenue potential, the young startup has been cautious and slow to roll out ways to make money from its users.
The company didn't attempt to monetize until late last year, when it introduced video ads in users' feeds. Those ads are voluntary to watch.
Geo-filters, in contrast, are embedded in the process of sending a snap. This presents users with a more fluid way of not only viewing an ad, but also -- and more importantly -- incorporating and distributing branded promotions throughout their social network. It's not just another thing that users see and ignore. When used, these ads are shared and endorsed.
Users may not enjoy having more companies target them with ads based on where they are. But if the illustrations are done right, and Snapchat chooses the right companies to partner with, these filters could catch on and be a potentially respectable source of revenue for the app.
Given that Snapchat is planning for an IPO, we should expect to see more new features promoted or sponsored by businesses.