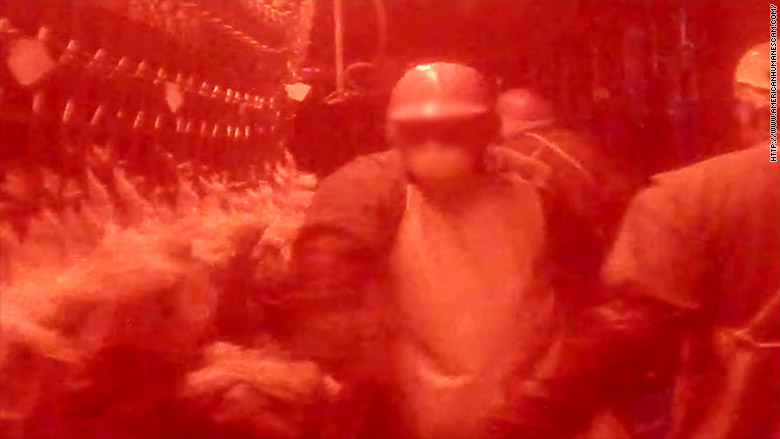 A California poultry producer has suspended five slaughterhouse workers after the release of a shocking undercover video that showed them punching and boiling live chickens.
Mercy for Animals released the secretly recorded video showing abuse of chickens and baby chicks at a Foster Farms slaughterhouse and farm in Fresno in California's Central Valley, home to much of the country's agricultural production.
"Workers punch, throw and beat terrified animals while hanging them on the slaughter line," said Bob Barker, an animal activist and former TV game show host, who narrates the video. "Here a worker rips out the feathers of a live bird just for fun. Birds who aren't shackled properly often miss the kill blade and go through the entire slaughter process fully conscious and able to feel pain."
Foster Farms released a statement that it is "cooperating fully" with the sheriff's department and is "conducting its own investigation."
The company also said it had suspended five employees that were "either directly involved in abusive behavior or witnessed the incidents without reporting the violations to management."
Mercy for Animals also called out the American Humane Association, because the meat sold by Foster Farms is certified by the American Humane Association, meaning that it's been approved by the organization as meeting high standards for treatment of animals.
"The video was very surprising, as Foster Farms has worked to create a culture of humane treatment," Mark Stubis, spokesman for the American Humane Association, told CNNMoney. "In fact, they have never failed an audit in the three years we have been working with them."
Stubis said his organization also is "thoroughly investigating" and hopes "the individuals involved are prosecuted to the full extent of the law."
"We will work with the producer to make sure corrective actions are taken so this won't happen again," he added. "Foster Farms is already planning on retraining workers on the live hang wire and those working with chicks."
Related: FDA is banning trans fats
Last week, Costco (COST) was the subject of a similar undercover video from the Humane Society (which is separate from the American Humane Association.) The video depicts chicken abuse at Hillandale Farms in Gettysburg, Penn., an egg supplier to Costco. The society accused Costco of hypocrisy, since the chickens are crowded into cages, but the Costco packaging depicts "an image of hens roaming free in a pasture outside a picturesque red barn."
But a spokeswoman for Costco told CNNMoney that "inspections that we have conducted there as recently as this week confirmed for us that Hillandale is behaving appropriately."
The agriculture industry has been cracking down on undercover factory farm videos with so-called "ag-gag" laws. Nine states have passed ag-gag laws, most recently in North Carolina, giving businesses the right to sue employees who secretly shoot videos.