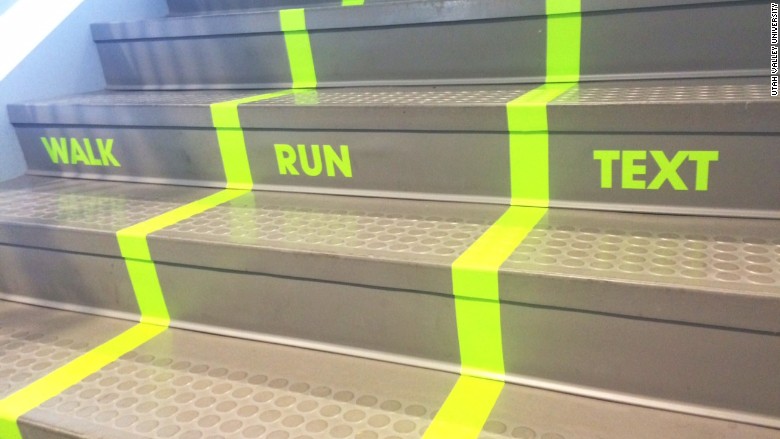 If you're texting while using the stairs, you'd better stay to the right.
That's the message from Utah Valley University's hall-monitor like message to students, after the college painted lines on a staircase to divide the stairs into three lanes: walk (on the left), run (in the middle), and text (on the right).
Photos of Utah Valley's staircase have gone viral. The school said the stair lanes have received "local, national and international attention."
The school's marketing and communications department decorated the steps with the neon stripes and labels earlier this month as a way to liven up the campus.
"When you have 18- to 24-year-olds walking on campus glued to their smartphones, you're almost bound to run into someone somewhere; it's the nature of the world we live in," UVU's creative director Matt Bambrough said in a blog post. "The design was meant for people to laugh at rather than a real attempt to direct traffic flow,"
Bambrough said he didn't have safety in mind when design the lanes. He said he was trying to engage students, catch their attention and to "let them know we are aware of who they are and where they're coming from."
Text-and-walk lanes have also been spotted in Belgium recently, and China and Washington DC in past years.