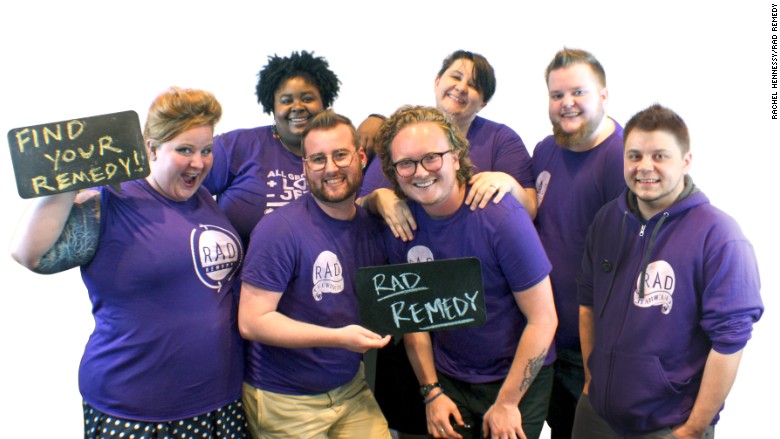 If you're transgender and living in, say, North Dakota, it can be hard to find a supportive medical provider.
Not anymore.
On Thursday, nonprofit RAD Remedy launched RAD, a Yelp-style database of health providers, on Thursday. RAD Remedy's mission is to serve the transgender, gender non-conforming, intersex and queer communities. The database is a necessity, the organization's director says, because too many people from those communities face discrimination by health care providers or don't have access to doctors who understand their needs.
"We have faced a significant amount of trauma around getting care," said Riley Johnson, RAD Remedy's executive director. He also said that even when providers label themselves LGBT-friendly, that's not always true.
Related: 'You are all influencers': How lesbians in tech are gaining ground
"The 'T' is there but it's not always put front and center," he said. "We wanted to take the folks marginalized even in the LGBT community and put them at the center."
What's more, the care required for a lesbian or gay person can be different than the medical transition, surgery or other health-related needs for a trans person.
Ideally, a doctor's office that's supportive of the trans community has a few things going for it: First, it has been recommended by a member of the community. Second, it is very clear in its support of trans patients. That means making sure forms are updated with preferred name and pronoun, there are non-gendered bathrooms and the staff is trained in how to address someone trans or gender-nonconforming.
"The minute someone misgenders you or calls you the wrong name in a waiting room, not only is it infuriating, but there's shame around it sometimes, and it can make the act of getting care that much harder," Johnson said.
Related: Barnard College will now accept transgender women
There are about 1,000 providers on The RAD list so far. They have been recommended by community organizations and individuals across the country. While not all have been vetted by the RAD Remedy team, the goal is that they all will be eventually.
It took longer to find providers in certain areas of the country than others.
While the Bay Area and New York City have many options, more rural areas, like some parts of Illinois or North Dakota, are more challenging. Finding a single provider that matched the criteria in North Dakota took three months. In that instance, Johnson found out that people were actually going across state lines to Minneapolis to see a doctor they felt comfortable with.
"They would go five hours one way to get care," Johnson said."They ought to be able to get decent care where they are, so we're working to make that happen."