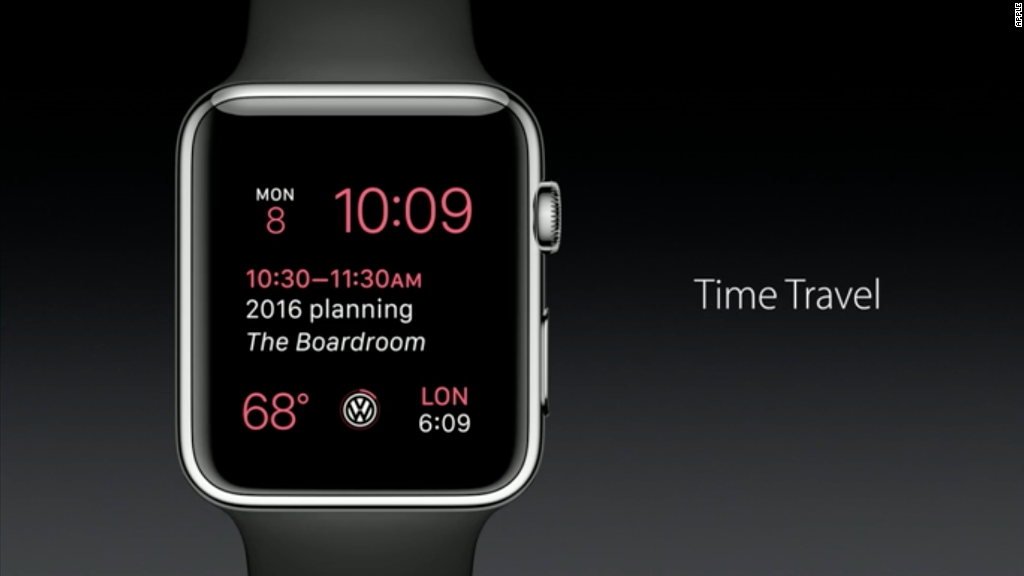 The Apple Watch has only been out for three months. Obviously, that means it's time for rumors about what the next version will look like.
It's no secret that Apple is working on the next generation of the wearable hardware. The first-generation watch left much room for improvement. Plus, slowly doling out new features in gadgets keeps customers hungry for the latest upgrade.
But what features are up next? A camera for making FaceTime video calls, improved WiFi features, and more high-end models, according to 9to5Mac's Mark Gurman.
A front-facing camera on the watch would allow for low-resolution streaming video for chatting, but also possibly taking pictures and shooting video from your wrist. You can already make calls on the watch, but apparently those communications were lacking unflattering below-chin visuals.
Related: Who exactly is the Apple Watch for?
Cameras in wearables are a sensitive subject, just ask Google (GOOG). The camera inside its now hibernating Google Glass was largely responsible for the negative backlash against the device. People were uneasy with the idea of being filmed without consent. Bars and restaurants banned Glass, privacy advocates rallied against it, and members of Congress wrote Google a strongly worded letter.
WiFi improvements -- namely a new WiFi chipset, according to 9to5Mac -- could give the device some much needed autonomy. The current version is heavily dependent on the iPhone for many key features, including calls and messages.
The company could also expand its lineup to include more models in the $1,000 to $10,000 range. The regular editions currently range from $550 to $1,000, and then there's a huge jump to the Edition (Apple's luxury lineup), which runs $10,000 to $17,000.
Gurman predicts predicts we'll see the next-gen Apple Watch sometime in 2016.