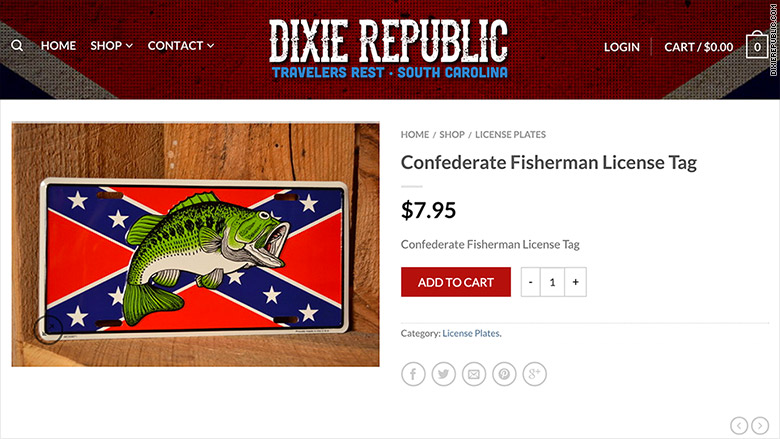 Confederate-themed merchandise is suddenly hot.
Small stores are seeing a spike in orders just in the last couple of days, even as big box retailers Walmart (WMT), Sears (SHLD) and eBay (EBAY) are vowing to stop selling the stuff.
"Somebody in Rhode Island ordered in 50 Confederate (lapel) pins," said Kerry McCoy, owner of Flag and Banner in Little Rock, Arkansas.
The order came in on Monday, when Gov. Nikki Haley of South Carolina called for the removal of the Confederate flag from the grounds of the state capitol.
McCoy's sales of Confederate flags also spiked.
"We sold 20 today and we would normally sell none," she said. Her store also sells Confederate-themed lapel pins, license plates, decals and bikinis.
Freddie Rich, owner of Rebel Store in North Carolina, said his sales of Confederate items is "unbelievable right now. This is something I never envisioned."
Rich said he shipped out 200 Confederate flags in the last 24 hours, compared to his usual sales of a dozen flags a day.
Related: Some Confederate flag makers wonder if they should stop
However, one small retailer Cafe Press, which is a top result in a Google (GOOG) search for Confederate retailers, is backing away.
The onesie (pictured below) with the Rebel flag is one of the items it has sold in its online store. But now the store says it will stop selling such items.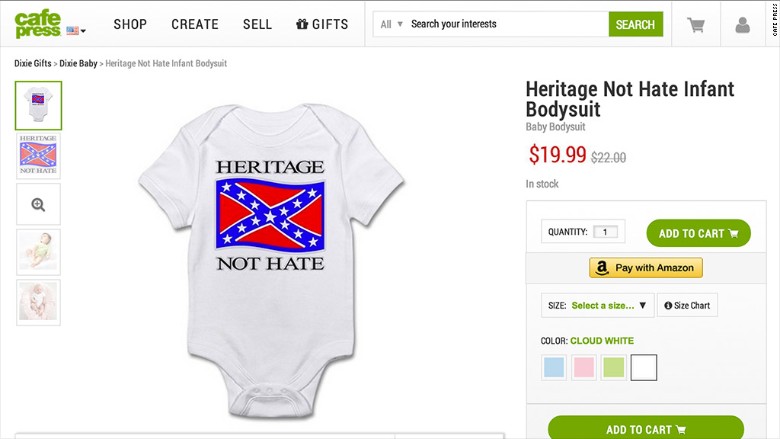 "CafePress has decided to amend its content usage policy and will now classify use of the Confederate flag as hateful speech," a company spokesman said in an email to CNNMoney. "We will be removing all products featuring the Confederate flag from our marketplace."
Ron Hammon, owner of Proud Rebel, another online retailer in northern Alabama, said he sold a dozen Confederate flags Tuesday, about triple his normal sales.
Hammon first created his business back in 2000, when South Carolina removed the Confederate flag from the top of the state capitol and moved it to the front of the building. Now he sells T-shirts, belt buckles, license plates, hats and fuzzy dice, all bearing the Confederate design.
Dan Simon of CNN contributed to this story.