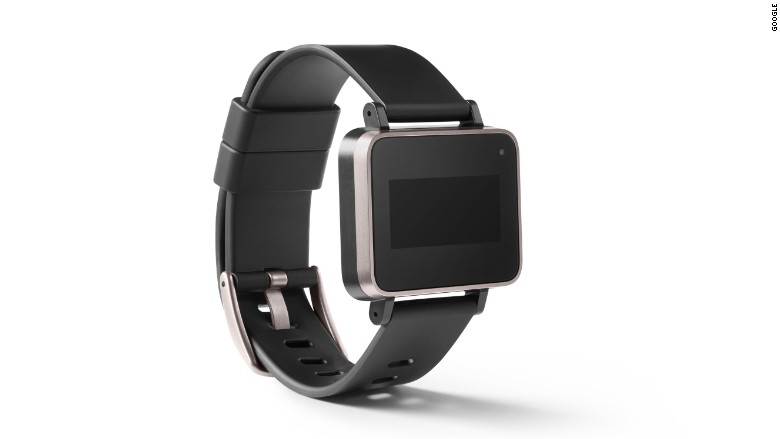 Google is working on a wearable device that can help doctors remotely monitor patients' health.
The connected wristband can take a person's electrocardiogram (or EKG) and assess environmental stressors, including light and noise levels.
The "investigational device," intended for research and academic purposes, was first reported by Bloomberg Tuesday.
In an email to CNNMoney, Google (GOOGL) says the studies will help the company figure out how the watch-like gadget could be used to study and treat diseases.
Activity sensors in the wristband could detect changes in a person's mobility, which would help in studying Parkinson's, for example. Physicians could also advise heart attack patients to wear the wristband after being released from the hospital.
"Our hope is that this technology could unlock a new class of continuous, medical-grade information that makes it easier to understand these patterns and manage serious health conditions," said Andy Conrad, head of the life sciences team at Google.
Critics of current health trackers have argued that it's difficult to measure heart rate accurately from the wrist. One reason, they say, is that devices like the Apple (AAPL) Watch typically use rapidly flashing infrared light to measure blood flow changes which indicate heartbeat timing.
"But bones, tendons, muscles, and vascular structure of the wrist can interfere with the ability to accurately measure heart rate and other biometrics during exercise," said Dr. Steven LeBoeuf, president of Valencell.
Google's new device is able to measure electrical pulses of the heart and skin temperature.
The life sciences team at Google is an internal healthcare technology group that is part of Google X labs, the same team responsible for driverless cars, Internet balloons, and contact lenses capable of measuring glucose levels in tears.