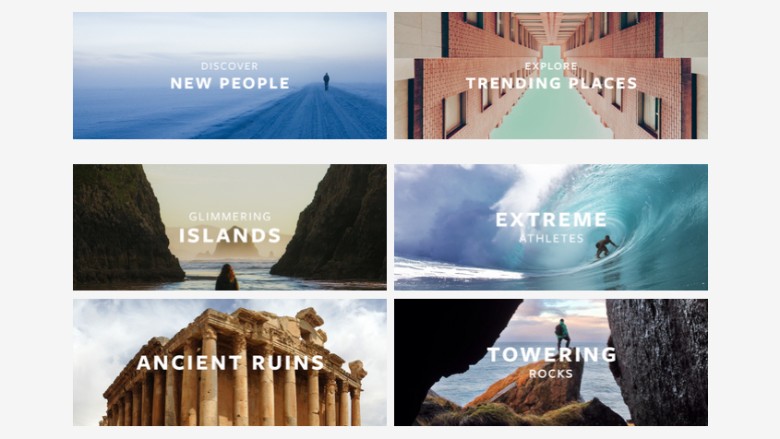 In April, amateur photographer Devin Allen started sharing his striking black and white photos of Baltimore protests on Instagram.
One photo made the cover of Time Magazine, another was shared by Rihanna. But many of Instagram's 300 million users had no idea something remarkable was happening outside the bubble of their news feeds.
On Tuesday, Instagram overhauled its neglected Explore tab and updated its search feature to highlight real-time events.
The new Explore screen shows a list of trending tags for current hot topics like the confederate flag, along with the made-up holidays popular on social media like National Pink Day, Olympic Day, and Stick Your Tongue Out Tuesday (all today). Human-organized Collections group together photos and accounts by themes, like NBA athletes and ancient ruins. For now, these updates are only available in the U.S.
Related: Don't ditch that BlackBerry yet!
It also tweaked the Search feature for everyone in the world, adding the ability to look up photos by location.
Facebook-owned Instagram is the latest company to try and wrangle its unruly amount of content so it's easier for people to follow live events.
Twitter (TWTR) is the go-to social network for breaking news, but its reverse-chronological feed can be overwhelming and it's difficult for new users to know where to start or who to follow. The company is working on a similar solution for highlighting real-time content, called Project Lightning, though it won't be available until later this year.
Facebook (FB) is the most heavily curated option, and is constantly changing the algorithms that control News Feed. It does so much meddling that often, instead of showing timely news, it displays posts about breaking news a day late.
Instagram is unique in that it revolves around photos and videos. For the stories with a huge visual impact -- protests, concerts, wildfires, weather, natural disasters -- Instagram is a powerful way to see what's happening.
It just needs to get people to look beyond the dogs, baby's first steps and flawless soufflés that fill their main feed every day.