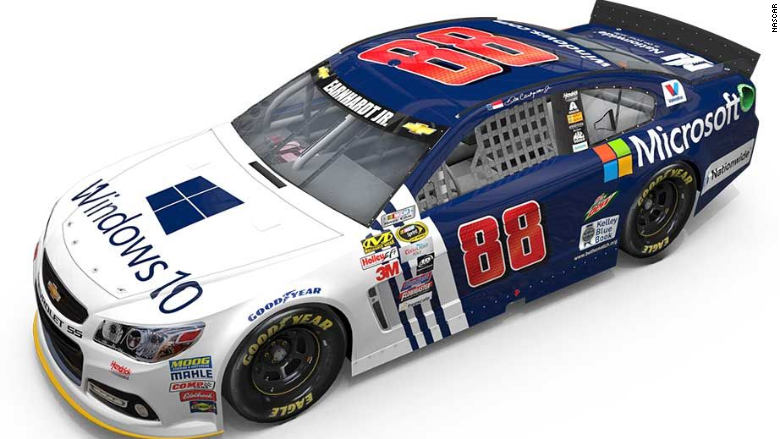 Dale Earnhardt Jr.'s No. 88 car will be emblazoned with a Windows 10 paint scheme for two upcoming races.
The NASCAR superstar, whose primary sponsor is Nationwide insurance, will sport a Windows 10 and Microsoft (MSFT) logo for the June 28 Toyota/Save Mart 350 at Sonoma Raceway and the Pennsylvania 400 at Pocono Raceway on August 2.
Earnhardt, NASCAR's most popular driver, will also become a spokesman for Windows 10. He'll appear in ads for the new operating system that is set to be released on July 29.
"I'm a big technology user and really enjoy Microsoft products," said Earnhardt.
The new paint scheme comes after Microsoft announced this week that it has become the official technology partner of NASCAR and a "major technology partner" of the Hendrick Motorsports team for which Earnhardt races.
As part of the partnership, Hendrick Motorsports will use Windows 10 PCs and Microsoft's Azure cloud platform.
"There's no doubt our ongoing technical partnership will help us raise the bar in many areas," Earnhardt said. "It's great to see Microsoft is having such a positive experience with NASCAR and wants to do more across the sport."
Microsoft first partnered with NASCAR in 2008 by sponosoring the BAM Racing team. Last year, Microsoft began to provide NASCAR with a Windows mobile inspection app. NASCAR claims that the technology has made car inspections more efficient, reducing time spent examining cars by half.
"We're excited at the prospect of developing new applications and leveraging Windows 10 and Microsoft Azure services that will make our sport more competitive, exciting, and accessible to fans," said Steve Phelps, NASCAR's chief marketing officer.