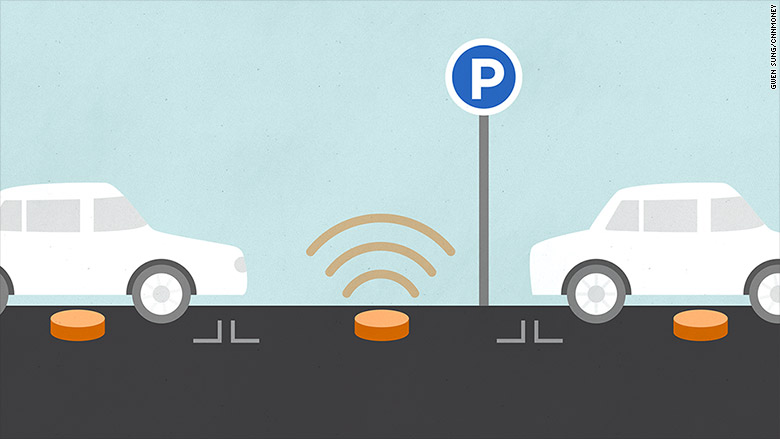 You circle the block a dozen times, just barely missing one open parking spot, mistaking a loading zone for another, before finally resigning yourself to parking blocks away from your destination.
It's an annoyance we've all experienced, and Parkifi is trying to solve it. But it's not just because the startup cares about your mental health.
Circling for parking adds to congestion, bad air quality and traffic accidents. And while parking spaces are the biggest use of land in any city, they're terribly managed, according to Donald Shoup, urban planning professor at UCLA.
"You can't imagine having any other industry where they don't know what the inventory is," Shoup said. "And they just have no idea [with parking]!"
Parkifi was cofounded by Ryan Sullivan and Rishi Malik. It makes sensors and the corresponding technology to let people know whether spots are occupied. This isn't new, but they're doing it for much, much cheaper.
CNNMoney's Upstart 30: The Idealists
The sensors are "about the size of a hockey puck" and cost $30 apiece -- nearly 90% cheaper than competitors, Sullivan says. The sensors are adhered to individual parking spaces or recessed so they're flush with the surface (which is key in Parkifi's home state of Colorado, when snowplows scrape at the asphalt all winter long).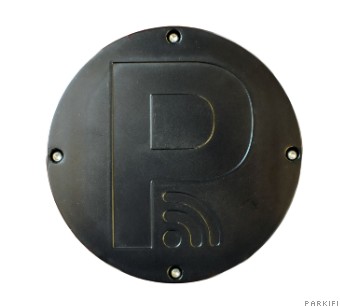 Data from the sensors is sent to Parkifi's clients -- mostly cities, malls and parking garage operators. Parkifi provides analytics and historical trends so the owners can use dynamic pricing -- raising or lowering the cost of parking depending on things like time of day, weather and flight schedules.
Malik and Sullivan, based in Denver, initially set out to build a parking app -- but they quickly realized that the underlying technology just didn't exist. So they built that instead.
With their tech on the backend, that leaves a host of other startups to handle the consumer-facing products, which focus on mobile payments or reserving spots. Parkifi directly partners with some of the companies (MobileNOW!, Passport Parking and Parknow) but its technology will work with other apps.
CNNMoney's Upstart 30: The Futurists
Currently, Parkifi has about 500 sensors deployed in Boulder and Denver. But in the coming weeks, it'll be announcing partnerships with two "top-tier cities" (Sullivan won't disclose what they are just yet), as well as a large mall operator in California and several major sporting arenas.
It was the interest of these large companies that propelled Parkifi's most recent funding: $2 million in a round led by Galvanize Ventures, which has an office in Denver.
The parking business is ripe for disruption. While many parking startups are relatively young, the industry is estimated at $100 billion, according to PrivCo, a data provider on privately-held companies.
"The industry is still very fragmented with many apps focusing on a specific region or even a single city," said Sam Hamadeh, CEO of PrivCo. "The growth of these firms will be determined by the partnerships they make and the users that they can attract."
For Shoup, who's been advocating for parking reform for decades, it's a welcome change.
"Smart policies and smart technology feed off each other," he said. "The desire to improve policy has really stimulated the investment in new technology."