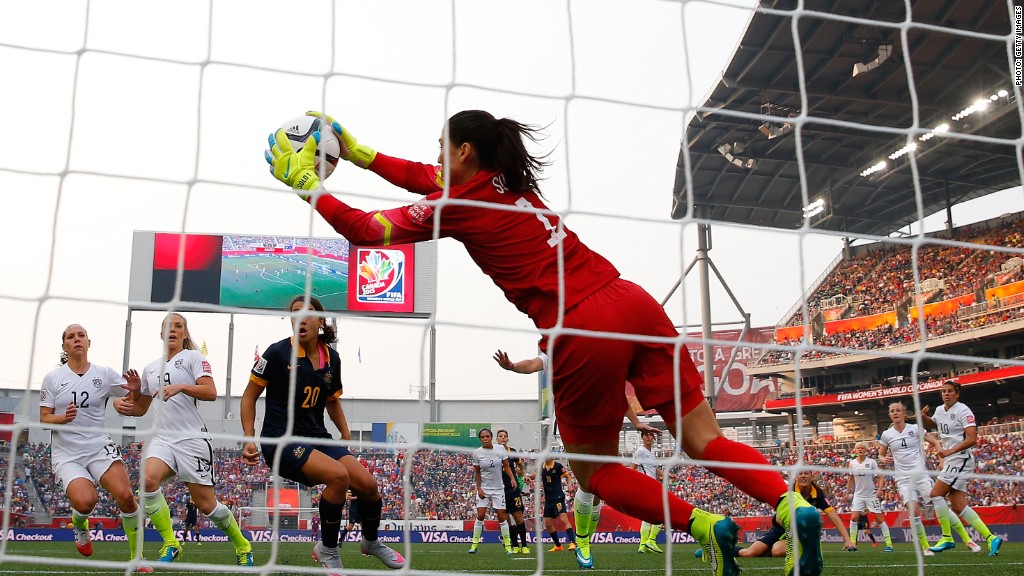 The United States women's soccer team is three wins away from becoming World Cup champions.
At stake? National pride, of course. But it could also mean lucrative sponsorship deals for the team's most recognizable players.
Mia Hamm, Julie Foudy and Brandi Chastain became bona fide celebrities after the women's team won the World Cup 16 years ago.
Hamm, who was already appearing in Gatorade spots with Michael Jordan before the World Cup, did even more ads for Pepsi (PEP), Mazda (MZDAF) and Nike (NKE). (There's even a building named after Hamm on Nike's Oregon campus.)
Related: How Nike became king of endorsements
Foudy and Chastain were in several commercials for Bud Light. Chastain and Hamm had their pictures on Wheaties boxes. So did Michelle Akers and goalie Brianna Scurry.
So, if they go all the way, can this year's team profit like it's 1999?
Bob Dorfman, a sports marketing expert at Baker Street Advertising, thinks it's possible.
He said that current star Alex Morgan, who's already been in ads for Nationwide and ChapStick, would probably be the biggest winner.
Abby Wambach, the 35-year old veteran who has said that this will be her last World Cup, could cash in, too.
"Wambach is probably the biggest name on the team, and this is her swan song," Dorfman said.
But there are some big differences between the current team and the 1999 champs.
Related: New EA 'FIFA' soccer game has women players for first time
The 1999 team benefited from the fact that the U.S. was hosting the World Cup. This year's games are being played in Canada.
So fan interest and media attention in America was a lot more intense 16 years ago than it is this year.
The 1999 team was also more exciting to watch. This year's team has been taken to task for lackluster play so far -- even though they've advanced to the quarterfinals.
"The U.S. performance has been acceptable but less than scintillating," said Dorfman. "In the last match against Colombia, all the announcers did was criticize them."
And then there's the Hope Solo controversy. Solo, the star goaltender for the current team, would probably be one of the most sought after players for advertisers -- if not for her tumultuous life off the soccer pitch.
Solo was arrested for domestic violence in 2014. The charges were subsequently dropped.
But earlier this year, Solo's husband -- former NFL player Jerramy Stevens -- was charged with DUI. He was driving a U.S. soccer team fan at the time. And Solo was with him. She was suspended from the team for 30 days as a result.
Related: How to fix the FIFA brand
Still, there's time for the team to get casual sports fans -- and big consumer companies -- to take notice.
If the U.S. beats China on Friday, it moves on to the semifinals. At that point, Dorfman said anyone could become a hero with a key goal or penalty kick.
Social media could help, too. There was no Facebook or Twitter in 1999. The team has already been the subject of numerous tweets by superfan Tom Hanks -- who has nearly 10 million followers. (There's no crying in soccer?)
Merely making it to the finals probably won't be enough to lead to advertising riches though.
The team is one of the favorites. It is ranked second in the world.
Fans -- and Madison Avenue ad execs-- want to see players hoisting the World Cup trophy.
Remember that the U.S. lost the 2011 World Cup championship game in heartbreaking fashion to Japan as well.
So a victory this year could make the team even more marketable because there's a redemption storyline.
"A win in a big game could vault this team into the iconic category. But they have to win it all. If they don't, it will be considered a disappointment." Dorfman said.