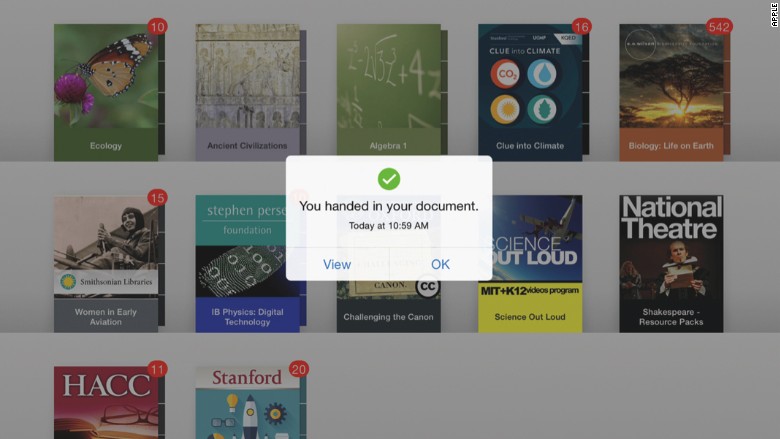 Unless they have a particularly large and hungry dog, some kids just lost an excuse for not turning in their homework.
Apple updated its iTunes U app on Thursday, adding a new feature that lets students turn in their homework directly from their iPad or iPhone. When students finish a book report or other assignment, the teacher will get a notification right away and see a timestamp showing when it was turned in.
Yes, they'll know if you're even a minute late with that essay. Sorry, kids.
The tool for educators, students, and regular people who just wanted to learn has been around in the iTunes Store since 2007. The iTunes U app came out in 2012 and added management tools for teachers in 2014.
Teachers were already able to assign homework and create courses through iTunes U. Thursday's update gives them powerful new tools for tracking grades and working with students where they spend much of their time: on mobile devices.
A new discussion feature let kids and teachers communicate outside of the classroom. Teachers also can keep track of all assignments in a new grade book tool, available on the admin side of iTunes U which works on the iPad and web. (The new student features work on all iOS devices.)
Students can also turn in assignments completed in third-party apps. If they make a show in Puppet Pals or design something in Book Creator, they can press a button and the send their final work through iTunes U. Apple found that many homework assignments were in PDF form, so it added support for annotating PDFs directly to the iTunes U app.
The free iTunes U goes up against a number of other learning management systems, like Blackboard, Moodle and Edmoto.
Apple has sold 15 million iPads to schools, 11 million of those were in the U.S.