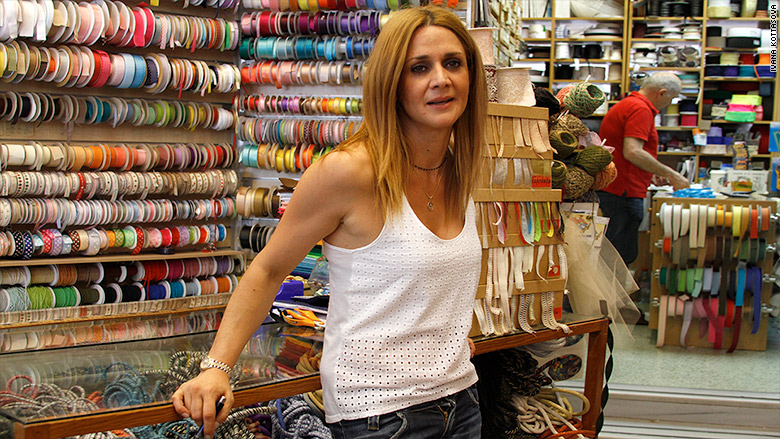 Denia Topalidou remembers the first time she realized Greece's economy was in crisis. People suddenly started buying fabric dyes. A lot of fabric dyes.
"I knew something was happening," she said. "10 years ago, nobody would even think about dyeing their old jeans."
Topalidou runs a fabric store in central Athens with her sister and parents. Set up by her grandfather in 1962, the shop has grown fast in the last five years.
During that time, the Greek economy has shrunk by a quarter, and one in five businesses has closed. Nearly 60 companies have closed each day this year.
The Topalidou family firm is just one example of how some businesses can thrive in austerity, as people are forced to change their lifestyle.
"People don't have money to buy new clothes, so they adjust and improve, even make their own clothes," Topalidou said.
Read more: 11 faces of Greece's euro dilemma
Household spending has fallen by 30% since 2010, according to the International Monetary Fund. As real wages fell, people were forced to find new ways to save money.
Brides-to-be come into the Topalidous' shop to pick up ribbons and fabrics for handmade decorations; other customers want supplies for craft presents. Felt trinkets are particularly popular, and the shop sells books on how to make them.
Business has been so brisk that the Topalidous were able to take over two adjacent shops to expand their premises.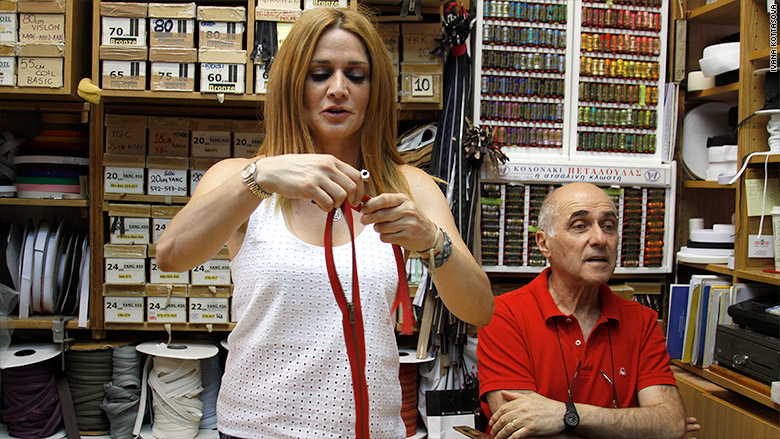 "The crisis created the business, but then the business became fashion -- everyone loves handmade gifts and unique clothes," Denia's sister Anna told CNNMoney.
Social networks such as Instagram and Pinterest helped fuel the boom.
"Handicraft is in," she said.
Related: Greece has five days to avoid default
Wajahat Anwar, a Pakistani immigrant, runs a small cell phone shop just down the road from Athens' main meat and fish market. His business has also changed dramatically in the last five years.
As Greeks tightened their belts, sales fell by as much as 20% but Wajahat's repair business grew by around 40%.
"Before [the crisis] people would always buy new phones," he said, while working on a smashed smartphone screen. "Now they don't have any money, so they try to have things fixed, or buy second hand."
Brain drain: Greece's future is walking away
The new reality means he must work harder -- he has to repair five phones to earn as much as he makes by selling just one.
Wajahat offers lower prices than official retailers, attracting customers who can't afford to use branded service points. The repairs offset lost sales, allowing him to break even at the end of the month.
"I put [any] extra money back into the shop, trying to improve it," he said.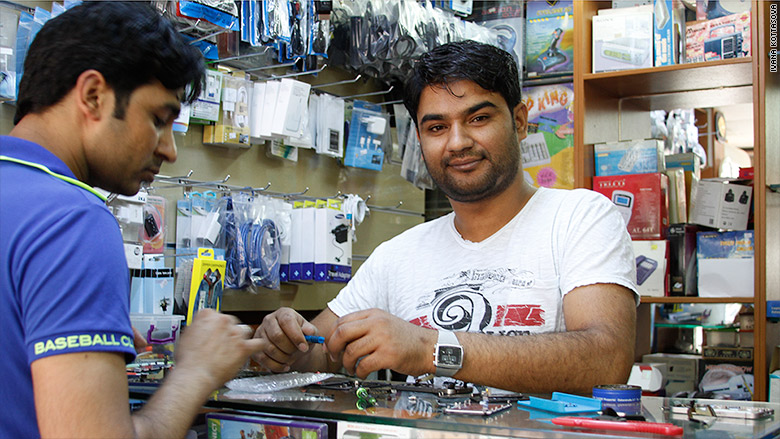 The economic misery was also initially a blessing for pawn shops. Dozens sprung up around Athens' Omonia square, buying gold and silver items for cash, when the crisis first hit five years ago.
Nikos Billis, who runs one of them, said the number of people wanting to sell their gold jumped 70% because of the crisis. Another pawnbroker just a block away said he saw an increase of more than tenfold.
But as the crisis grinds on, even these recession-proof businesses are starting to struggle.
"Now it's quite bad again... people have already sold all their gold, they have nothing left and no money to buy anything," Billis said.