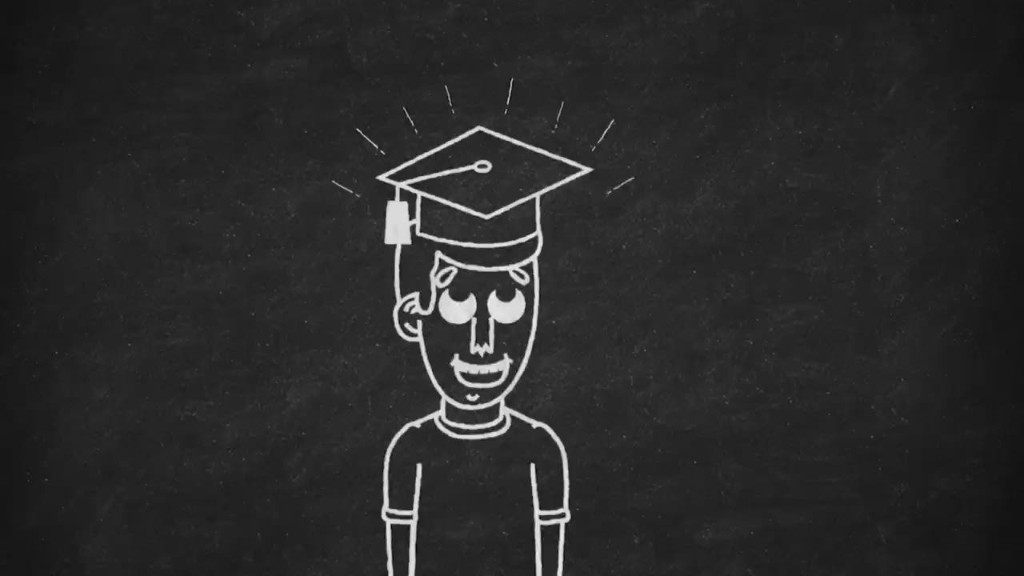 The University of Phoenix is shrinking in every way possible. It has lost students, employees and campuses at a breathtaking pace, and it's making much less money than it once did.
The for-profit institution has shed about half of its students over the past five years, and the university has fired 900 employees since September. That works out to over 3 workers laid off every day.
University of Phoenix's parent company, Apollo Education Group (APOL), announced dismal quarterly earnings Monday after the markets closed. Its revenue and student enrollment both dropped about 14% from the same time a year ago.
Investors ditched class Tuesday morning, and Apollo's stock tanked. Apollo's stock has lost more than half its value -- 61% -- since the beginning of this year.
Related: The University of Phoenix has lost half its students in five years
For-profit education struggle: University officials say no professors were affected by the layoffs. Employees who worked in admissions, financial services and other non-classroom positions lost their jobs.
The University of Phoenix also touts that its student default rate has declined considerably in recent years, which is good. However, default rates often decline with fewer and fewer students in class because the ones that couldn't pay are often the first to leave.
"We're obviously going through a period of transformation where there is a higher than normal volatility within our sector and our company," says Apollo Education Group CEO Gregory Cappelli said during a conference call Monday.
Cappelli projects that by next year student enrollment will be about 150,000. It's currently 206,000. Cappelli hopes to stabilize enrollment in the coming years.
The news isn't all bad. Apollo Global, the company's international education branch, has seen revenues jump up 17%.
Related: Latest college with financial problems: ITT Educational Services
Still, Apollo's most recent earnings are another chapter in the rapid decline of for-profit education.
Tighter regulations on for-profits and the Obama administration's push to make community college free top the list of headwinds. And non-profit universities have entered the online education space, where for-profit schools once held center stage.
The University of Phoenix and others have long been criticized for the quality and cost of their education. Studies have shown that graduates of for-profit colleges are more likely to default on their student loans than graduates of non-profit colleges.
University of Phoenix has closed over 100 campuses in recent years. Meanwhile, its former competitor, Corinthian College, shut down last year.