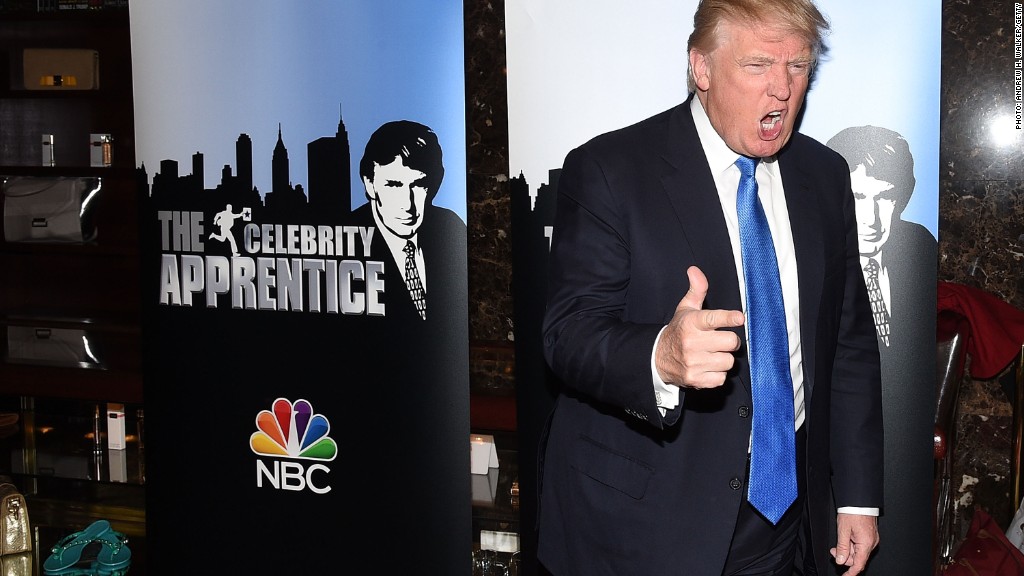 His incendiary comments about Mexican immigrants may have cost him a longstanding business partnership, but Donald Trump isn't exactly chastened.
A day after NBC severed ties with him, the reality television star and Republican presidential candidate offered more fighting words on the subject of illegal immigration and border security.
"We MUST have strong borders and stop illegal immigration," Trump tweeted on Tuesday morning. "Without that we do not have a country. Also, Mexico is killing U.S. on trade. WIN!"
Minutes later, Trump elaborated on those themes.
"I love the Mexican people, but Mexico is not our friend," he said in a subsequent tweet. "They're killing us at the border and they're killing us on jobs and trade."
He added: "FIGHT!"
Related: NBCUniversal cuts ties with Trump
Related: 5 remaining questions about NBC's breakup with Trump
Trump's disparaging remarks about Mexican immigrants (calling them "rapists" and "drug dealers") at his presidential campaign launch earlier this month prompted a swift backlash.
Univision, the biggest Spanish-language broadcaster in the country, said last week that it was dropping out of its five-year contract to air the Miss USA pageant, which Trump partially owns.
"We cannot be associated with insulting and intolerant speech that brands an entire community of Mexican immigrants in the U.S. as people who bring drugs, crime and rape into our country," Univision CEO Randy Falco said.
On Monday, amid protests from Hispanic groups, NBCUniversal also severed ties with Trump.
The decision means that Trump will no longer be involved in the "Celebrity Apprentice," the reality television series he has hosted for 11 years.
And, like Univision, NBC will no longer broadcast the Miss USA pageant.
NBCUniversal, which is owned by Comcast, owns half of the Miss Universe Organization, and Trump owns the other half.
But "the show will go on," according to Miss USA's organizers. Preparations are already underway for the July 12 event. The organizers would obviously like to find a new TV home for the pageant. So the parties involved have less than two weeks to strike some sort of a new distribution deal.
Trump hasn't said anything publicly about the pageant situation.
Trump has largely stood by his remarks about immigrants, though he has softened his tone in some forums. He told CNN's Jake Tapper in an interview that aired Sunday that he "love[s] the Mexican people."
But as he said at his campaign event, Trump maintained that many of the immigrants coming from Mexico to the United States are "really bad."