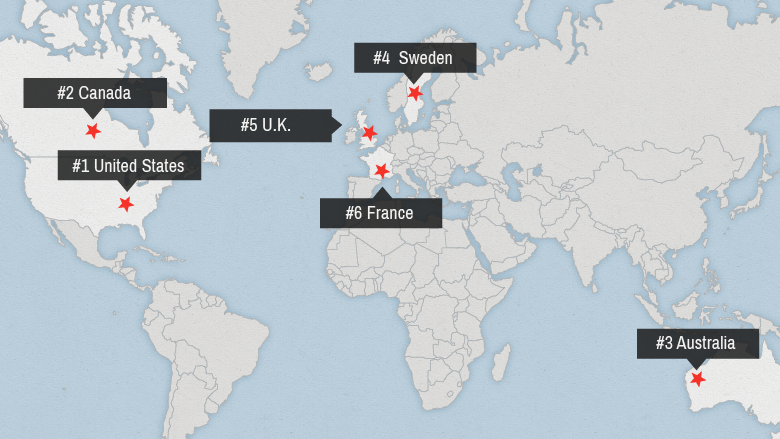 For women entrepreneurs, there are just a handful of countries that offer them the right circumstances to thrive.
The top five countries are the United States, Canada, Australia, Sweden and the United Kingdom, according to a new global report commissioned by Dell.
But the U.S. still has a long way to go. Even though it took the top spot in the ranking, the U.S. still scored 71 out of 100 across the 5 categories that were analyzed.
While the U.S. scored the highest in the business environment category, only 13% of start-ups with women on their executive team and just 3% of start-ups with women CEOs received venture capital funding in 2014, the report said.
The U.S. also rated only 1.5 out of 5 stars overall when evaluated on these aspects: percentage of women CEOs, female senior managers and women on corporate boards.
"If women entrepreneurs were starting growth-oriented businesses at the same rate as men in the U.S., we could potentially have 15 million more jobs in the next two years," said Dr. Ruta Aidis, project director of Dell's Global Women Entrepreneur Leaders Scorecard.
Related: She's $10 million closer to replacing plastic bottles
The report ranked and rated 31 developed and developing economies on business and gender-specific issues, and how they impact the growth of "high potential" businesswomen.
Those women entrepreneurs aren't just starting a business for themselves but also are adding jobs, expanding into new markets and even looking for export opportunities, said Aidis.
The annual scorecard offers an analysis of challenges and opportunities for women business-owners to launch, scale, create jobs and disrupt industries. "[The] scorecard is also critical to understanding what actions are needed to drive change," said Aidis.
It specifically evaluated the countries across five key categories: business environments, access to resources, leadership and rights, pipeline for female entrepreneurship and potential for high-growth women-owned businesses.
Related: From Wall Street newbie to millionaire by 27
Overall, the study found more than 70% of the 31 countries surveyed scored below 50% meet the basic conditions necessary for women entrepreneurs to prosper.
In all 31 countries, women are significantly less likely to know an entrepreneur. This impacts their inclination to start a business, the report found.
Related: How her kitchen-table idea became a Hollywood fad
France, Germany, Poland, Chile and Japan were the other nations in the top 10.
At the bottom of the ranking were Tunisia, Egypt, India, Pakistan and Bangladesh.