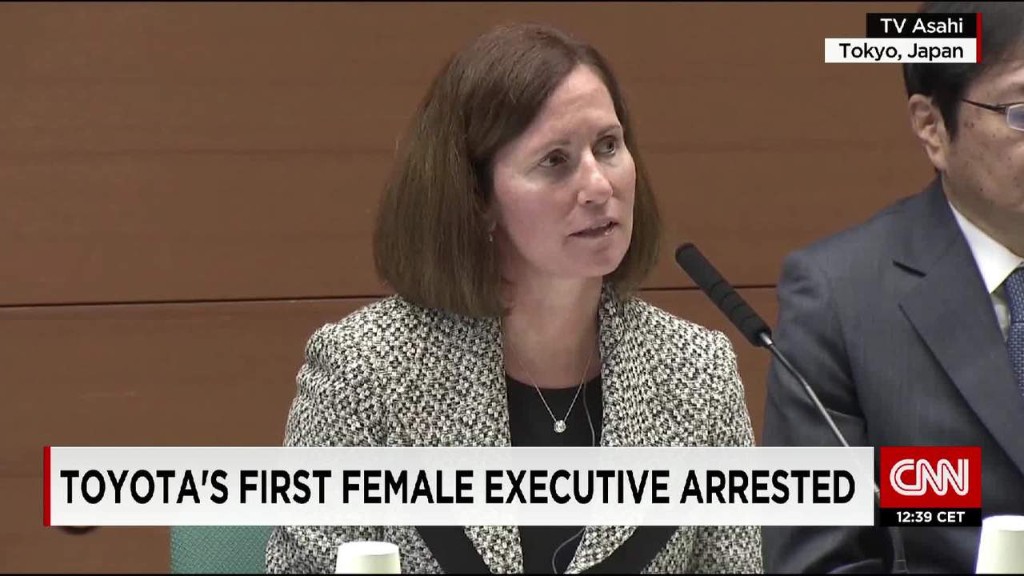 Julie Hamp, the first western woman to be named a senior executive at Toyota, has resigned her post after being arrested last month in Japan for allegedly importing oxycodone.
Toyota (TM) "has accepted her resignation after considering the concerns and inconvenience that recent events have caused our stakeholders," the company said in a statement.
Hamp was arrested in mid-June for allegedly violating the Narcotics Control Act, according to the Tokyo Metropolitan Police. She was appointed Toyota's chief communications officer in April, and previously worked for General Motors (GM) and PepsiCo (PEP).
"Because the investigation of Ms. Hamp is ongoing, there is little Toyota can say at this time," the statement said. "However, we intend to learn from this incident to help ensure a secure working environment for everyone at Toyota around the world as we continue to take the steps necessary to become a truly global company."
Hamp, an American, allegedly used an international parcel service to import oxycodone, which is categorized as a narcotic in Japan, according to police. The painkiller is legal in the U.S. with a prescription.
Hamp has told police she did not intend to import narcotics, according to Japanese media.
Related: Toyota's Rav4 gets cheap automatic braking
Following the arrest, Toyota CEO Akio Toyoda said he was sorry a senior executive had caused such controversy, and called her an "indispensable" colleague that the company believed in. He also expressed regret that Toyota had not done everything it could to prepare her relocation to Japan.
"Through the investigation, I believe that we will learn she had no intent to violate the law," he said in June.
-- CNN's Yoko Wakatsuki, Kevin Wang and Junko Ogura contributed reporting