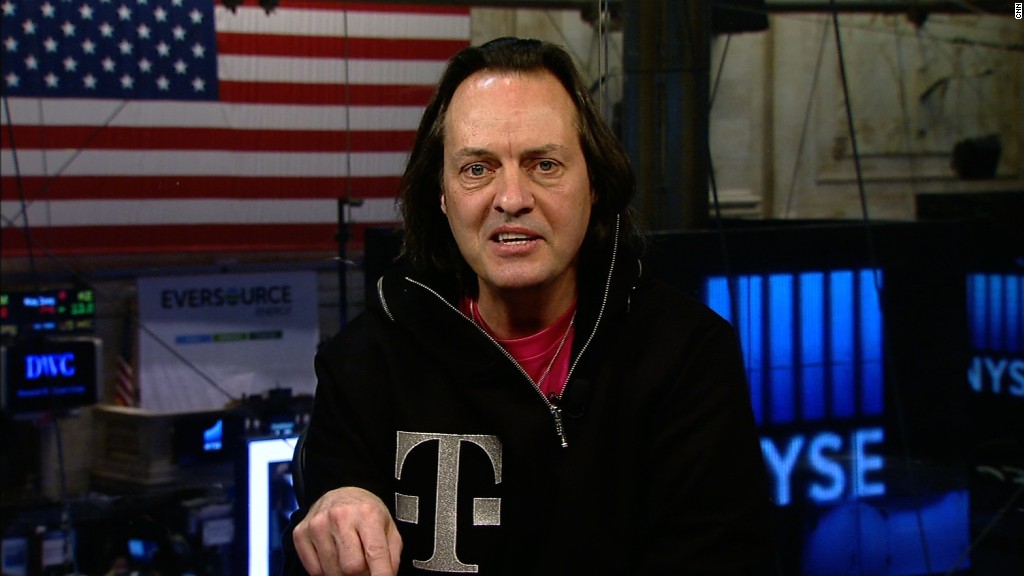 It sure seems in vogue for cell phone company CEOs to swear at their rivals.
Following T-Mobile (TMUS) CEO John Legere's profanity-laced tirade against competitors last week, Sprint (S) CEO Marcelo Claure lashed out against T-Mobile, by calling its Uncarrier marketing scheme "bullsh**t."
Here's the full tweetstorm from Claure:
"@JohnLegere I am so tired of your Uncarrier bullsh**t when you are worse than the other two carriers together. Your cheap misleading lease imitation is a joke. You trick people to believe that they have a 15 dollar iphone lease payment when it's not true. You tell them they can upgrade up to 3x but you don't tell them the price goes up to 27 dollars when they do. You say one thing but behave completely different. It's all a fake show. So its really #Tmobilelikehell"
The series of four tweets was in response to Legere bashing Sprint's new "All In" plan, which lets customers lease a phone and get unlimited data, texts and phone calls for $80 a month (plus taxes and fees).
"I give credit to @sprint for swinging the bat when they do -- but #allin is a swing and a miss, guys!! #sprintlikehell," Legere tweeted.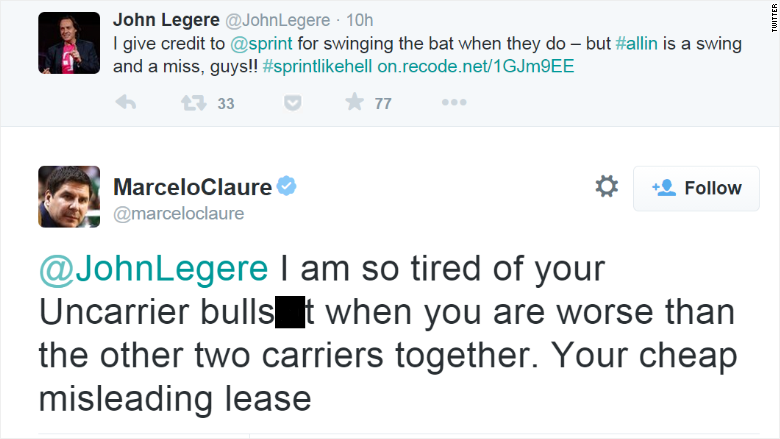 Legere didn't curse in that tweet, but he hasn't shied away from swearing in the past.
"Verizon has broken every promise with its bulls**t upgrade program, making it worse, not better," he said in a YouTube video last week. He added "T-Mobile's new plan has "zero out the door, zero at upgrade, zero fees, zero wait, zero bulls**t."
Last year, he told Yahoo's David Pogue that "If I was [Verizon and AT&T] I'd be sh**ing myself."
He even dropped the f-bomb several times in the Pogue interview after promising he wouldn't.
"AT&T even created a new word: 'We're the strongest,'" Legere told Pogue. "What the eff does that mean? I'm not going to use the f-word today, but If I could ... What the f**k does that mean?"
Until Claure's "BS" throwdown, the other carriers have largely stayed above the fray. But Legere's antics have clearly infuriated Verizon (VZ), AT&T (T) and Sprint. Each has levied a strong response to T-Mobile's Uncarrier mantra by slashing prices, offering contract-free plans and letting customers upgrade their phones when they want to.
The marketing is clearly having an impact, but all the cursing in the world is unlikely to disrupt the market too much. Customers have clearly shown a willingness to pay more for AT&T and Verizon to get what independent carrier reviewer RootMetrics calls the two best networks in the country.
Since T-Mobile started its Uncarrier branding in March 2013, T-Mobile has added 12.8 million wireless customers. But AT&T has added 14.5 million, Verizon also tacked on 9.7 million wireless customers, and Sprint added 2.3 million customers.