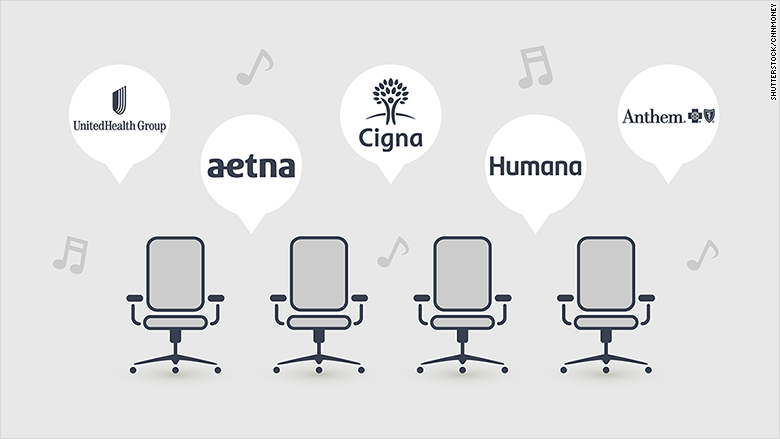 Aetna has struck a deal to buy rival health insurer Humana for $37 billion.
Aetna (AET) will acquire all outstanding shares of Humana (HUM) for a combination of cash and stock, at roughly $230 per Humana share, according to a joint statement. That's 23% higher than Humana's closing price on Thursday.
The new company will have more than 33 million members, and bring in estimated revenue of about $115 billion per year, with 56% coming from government-sponsored programs such as Medicare.
"This combination will allow us to continue to invest in excellent service for our members and strengthen our partnerships with providers to deliver high quality care at an affordable price," said Mark Bertolini, Aetna's chairman and CEO.
If the deal is approved by shareholders and regulators, Bertolini will serve as chairman and CEO of the new company. Both Aetna and Humana shares fell nearly 3% on Thursday before the deal was announced.
Related: Will you pay more health insurance as companies merge?
The U.S. health insurance industry has been engaged in a flurry of deal talks recently -- Anthem (ANTX) is interested in buying Cigna (CI), and UnitedHealth (UNH) was even rumored to be interested in Aetna or Humana. That's on top of a spate of health industry deals and negotiations last year. At one point, Pfizer (PFE) offered over $100 billion for AstraZeneca (AZN), though the talks fell apart.
The Affordable Care Act -- Obamacare -- is a mixed blessing for the industry. It's meant more business for major insurers because more Americans have health coverage, but experts say the law has also put more pressure on industry profits.
That may be why so many of America's largest insurers are in deal talks right now. They could also be trying to get ahead of the next open enrollment period for Obamacare, which starts in November.
Some doctors are concerned that these mergers will put too much power in just a handful of health insurance companies.
Bigger insurers with more clout could raise premiums and reduce the number of doctors and hospitals in network coverage plans. But health insurers have defended their position.
Clare Krusing, director of communications for America's Health Insurance Plans, a trade group that has all five major insurers as members, said in June that "there is little evidence that shows mergers in health insurance increase costs."
-- Paul LaMonica contributed to this report