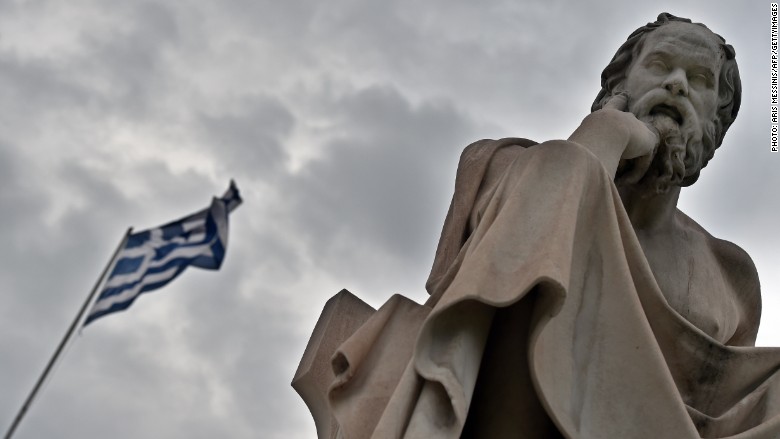 Crashing out of the euro may look like a good option for Greece ... from a comfortable office in New York.
As Greeks prepare to vote Sunday in a referendum on a recent bailout proposal from Europe and the IMF, the world's top economists are taking sides.
Nobel Prize winners Paul Krugman and Joseph Stiglitz say Greece should vote "no," and if necessary be prepared to leave the euro.
Lined up against them are 246 Greek economics professors. They say a "Grexit" would be a disaster and they're urging Greeks to vote "yes."
Greek Prime Minister Alexis Tsipras is campaigning for a "no" vote, arguing that will strengthen his hand in talks on a new rescue and debt relief.
"A yes vote would mean depression almost without end," said Stiglitz in a blog post this week. "By contrast, a no vote would at least open the possibility that Greece, with its strong democratic tradition, might grasp its destiny in its own hands."
European leaders say "no" could hasten Greece's departure from the euro, because it would show the country will never accept bailout terms.
Greece in Crisis: All you need to know
Stiglitz and Krugman are known for their anti-austerity views. They admit that there are huge risks with both scenarios, but argue that leaving the euro would give Greece much needed debt relief and a chance to start afresh.
That path would lead to economic doomsday for the country, according to their Greek peers.
Worried about Greece? You should be
The Greek professors published an open letter containing a stark warning against leaving the eurozone. They say it would have "disastrous economic, social, political and geopolitical consequences."
They listed several problems Greeks would have to face, starting with a sharp decline in tourism and shortages of basic goods, and leading to the collapse of public health care and defense.