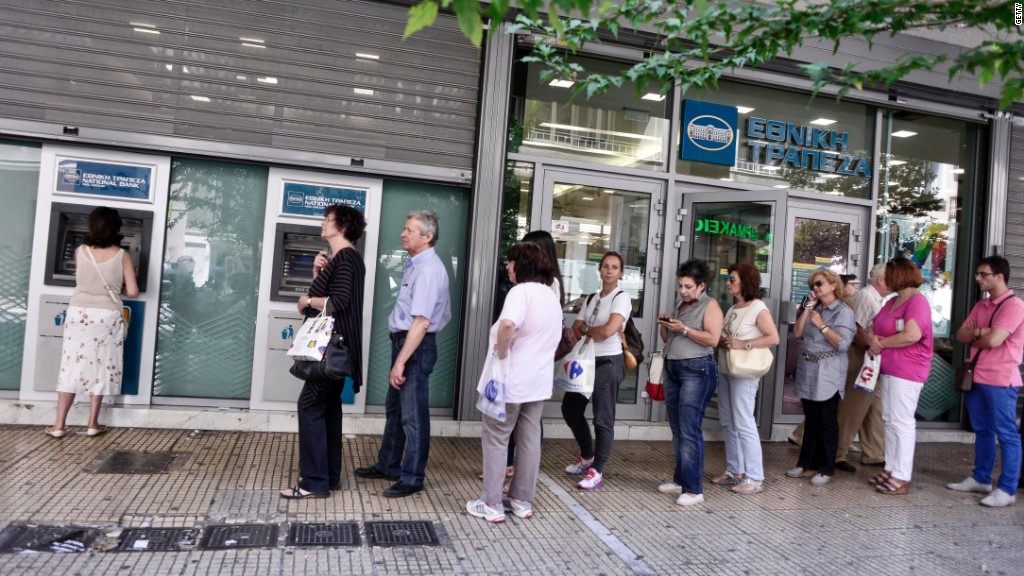 Greek banks will stay shut for another two days to avoid running out of cash, piling the pressure on the country to find a way to restart bailout talks with Europe.
The extension of the week-long bank holiday came after the European Central Bank turned down a request from Greece to provide more emergency funding for the banks.
The ECB also made it harder for them to access existing funding, by applying a bigger discount -- or haircut -- to assets the banks offer as collateral.
"This will add to the difficulties in the banking sector in Greece and is a further warning shot to the Greek government that an agreement with its creditors is needed, and soon," noted Ken Wattret at BNP Paribas.
The ECB is the central banker for the euro. The 19 countries that use the euro agree to abide by its rules on things like the flow of money and bank regulation. For most of this year, it has been keeping Greece's banks afloat through emergency funding.
A daily limit of 60 euros on cash withdrawals from ATMs for Greek bank card holders will remain in place, the Greek banking association said Monday. Other restrictions on moving money abroad have also been extended.
The banks are fast running out of cash. Greeks have drained tens of billions of euros from their accounts in recent months, fearing the consequences of economic collapse.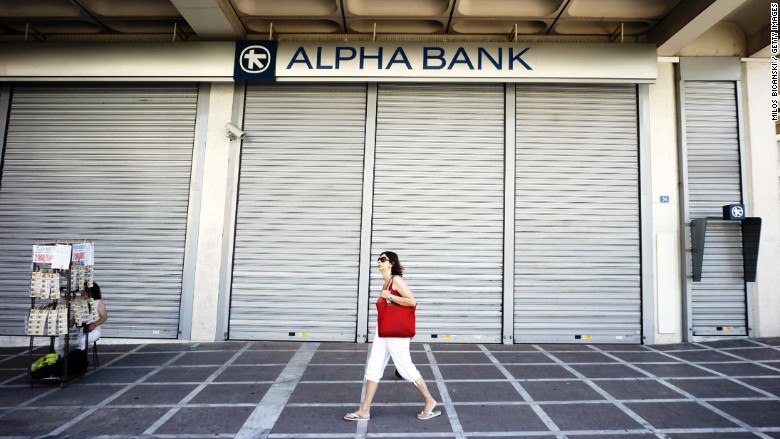 Related: Greece swaps finance minister to help bailout talks
Banks were shut a week ago after Greece walked out of talks on Europe's latest rescue offer, prompting the ECB to cap the emergency funding that is keeping them afloat.
Greeks voted by a big margin on Sunday against the bailout, setting the country on an uncertain path that could mean it has to abandon the euro.
Justifying the haircut, the ECB said it could only provide emergency funds against adequate collateral -- and it had to take Greece's overall financial situation into account because the Greek banks hold a lot of government assets.
Greece defaulted last week to the International Monetary Fund, and if it can't agree on a new bailout, it will be on its own financially.
European leaders will meet Tuesday to discuss a Greek proposal to resume talks. Greece wants a new bailout on easier terms, and a chunk of its debt canceled.
There is no certainty that other eurozone countries will agree to these conditions.
Related: What a Depression looks like (Greek style)
Related: Graffiti about crisis fills Athens' streets
-- Mark Thompson in London contributed to this article