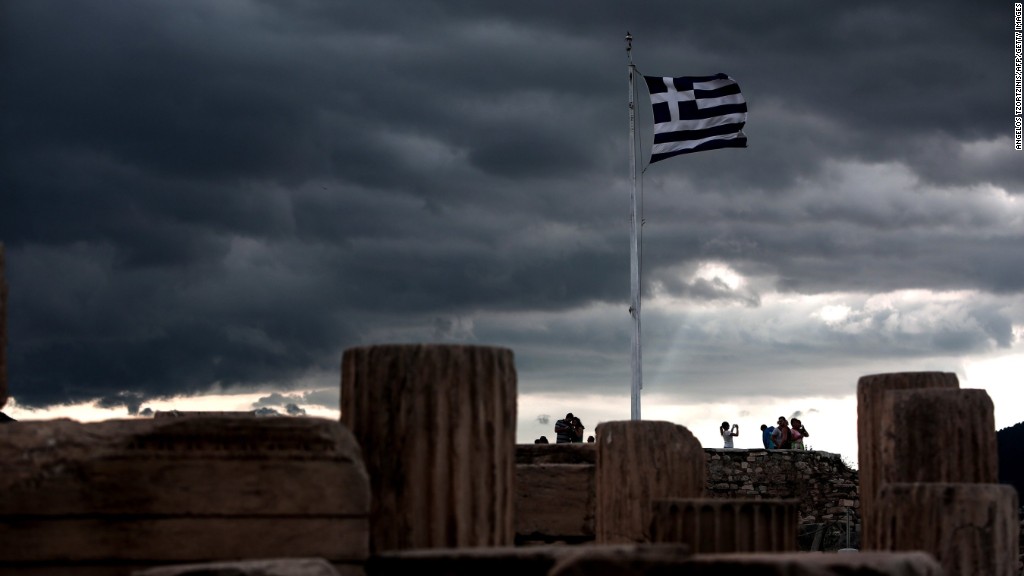 Greece could start a domino effect that hits Washington D.C. this summer. It could even knock the Federal Reserve off course.
Here's the problem: The Federal Reserve is on course to raise interest rates in September, but Greece's ongoing crisis could create enough uncertainty in U.S. markets or with the U.S. dollar to make the Fed delay its long-awaited rate hike.
Even Fed Chair Janet Yellen has warned that Greece is a factor.
"To the extent that there are impacts on the euro-area economy or on global financial markets, there would undoubtedly be spillover to the United States that would affect our outlook as well," Fed Chair Janet Yellen said at her press conference on June 17.
Related: The Greek Crisis...in 2 minutes
A big enough factor? Fed policymakers and some economists believe the blow back from Greece could eventually force the Fed to hold off raising rates until December or next year.
Other experts say Greece's debacle is unlikely to impact the Fed. The U.S. economy has very little direct exposure to Greece, and even big European banks have far less exposure to Greece now than they did just a few years ago.
"Greece is not a big deal for the Fed," says Sal Guatieri, chief economist at BMO Capital Markets. A CNNMoney survey of economists found that most don't think Greece is a big enough factor yet to delay a rate hike.
Related: Fed: hints of a September rate hike
Game changers: But Guatieri and other economists point out two things that Greece could trigger that would change that scenario:
1. The dollar becomes even stronger.
2. The U.S. stock market starts heading south.
European economies are still tied to the Greek economy and the U.S. is tied to Europe.
Greece's decisive 'no' vote on Sunday makes the country's -- and potentially the continents' -- economic future this summer much more uncertain. If that uncertainty -- which would probably spark volatility in stocks -- spreads throughout Europe, it could eventually impact America's economic growth.
Related: IMF criticizes the Fed (again)
"Since the [Fed's committee] has cited 'international concerns' as a risk factor for policy, yes, the situation in Greece will impact Fed thinking," says Marie Schofield, chief economist at Columbia Threadneedle.
Put another way: If Europe's economy slows down even more from Greece, it would likely boost the already strong U.S. dollar. That puts a drag on corporate profits and keeps inflation anemic.
The Fed pays A LOT of attention to inflation -- it's a key indicator for wage growth, something many Americans still aren't seeing 6 years into the economy's recovery. Flat inflation means little or no wage growth. Inflation in May was flat on a yearly basis, and wages barely budged in June.
If America's wage and inflation landscape doesn't improve soon, any impact from Greece could take a September rate hike off table, economists say.
"Holding all else constant, the Greece crisis probably pushes out the first Fed Funds target increase past September," says George Mokrzan, director of economics at Huntington National Bank.
While Greece is a factor, what's going on in the U.S. is more important to the Fed. If America's economic data continues to be strong this summer, the Fed will be more likely to act.
There's still "plenty of opportunity" for the job market to pick up the momentum before September, according to a Morgan Stanley report. But if the economy's progress is tepid or even modest, the Greek ripple effect could take place.