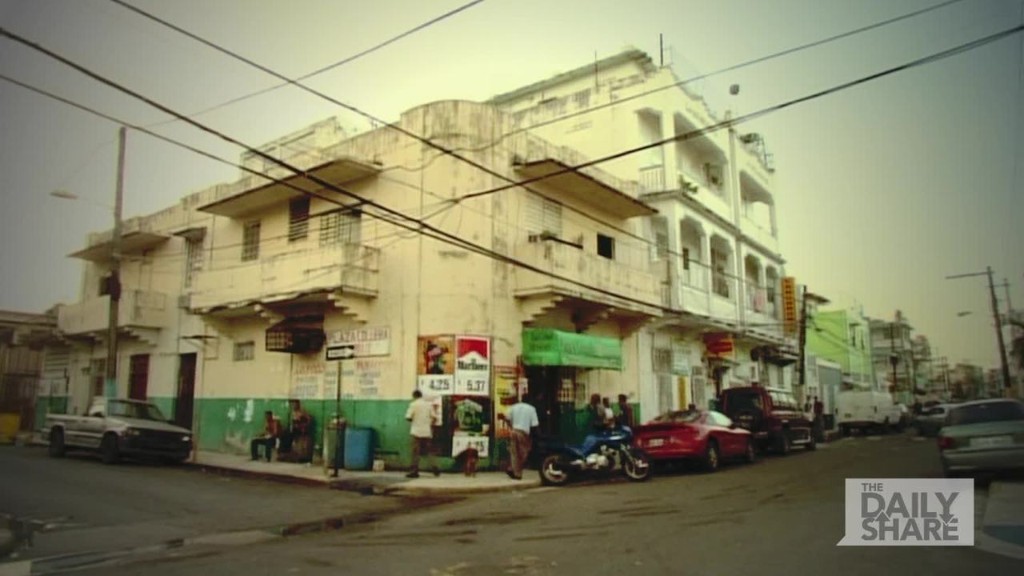 Puerto Rico has $73 billion in debt that it says it can't repay. Now it has two very powerful allies on its side: Jeb Bush and Hillary Clinton.
Both 2016 presidential candidates support giving Puerto Rico the same legal bankruptcy rights that states have. Puerto Rico's governor has been lobbying hard for that right.
There's a bill in Congress to give Puerto Rico what it wants, but it has no co-sponsors. That's why Bush and Clinton's backing could be key.
"I think that Puerto Rico ought to be treated as other states are treated as it relates to restructuring," Bush said during a visit to the island in late April. Other Republican candidates have largely stayed silent on the issue thus far.
On Tuesday, Clinton jumped on board as well.
"Congress should provide Puerto Rico the same authority that states already have to enable severely distressed government entities, including municipalities and public corporations, to restructure their debts," she said in a statement on her campaign website.
Former Maryland governor Martin O'Malley has been a vocal supporter as well.
Related: Puerto Rico's terrible economy is causing a population exodus
What it means: To be clear, no state can file for bankruptcy. But the 50 states do have the right to allow municipalities -- cities, towns and other local government entities -- within their states to file for bankruptcy.
Puerto Rican municipalities want to be able to file for what is known as Chapter 9 bankruptcy like Detroit and Vallejo, California did.
The benefit of bankruptcy is that is allows a broke government to shed some of its debt -- if a judge approve a municipality's game plan.
Will Congress act? The bill in Congress would give Puerto Rico the same rights that states have under Chapter 9. So far, the bill's only supporter in Congress is Puerto Rico's representative, who get to vote.
It might seem like a small issue in Washington, but it's a big issue for financial markets.
Puerto Rico has a tiny population -- about the size of Connecticut -- but it has a debt the size of a big state like New York. Over 20% of U.S. bond funds hold Puerto Rican debt.
The island doesn't have enough money to pay back its creditors. Some have even taken to calling it "America's Greece." Governor Alejandro García Padilla says Puerto Rico is in a "death spiral."
A lot of the trouble stems from Puerto Rico's power company, known as PREPA. It alone has $9 billion. It would be a game changer if PREPA could declare bankruptcy.
Related: Who owns Puerto Rico's debt?
Why bankruptcy? "Chapter 9 is really the only way to impose some sort of restructuring on all the bondholders," says David Tawil, a lawyer and president of Maglan Capital.
Bond holders don't want Puerto Rico to get that because it opens the possibility that they would be forced to take a loss on their bond investment if a bankruptcy judge sides with the island.
But the proposal has little currency in Washington.
"The bill that is in Congress has no co-sponsors and no support in Congress, although it does have a fair amount of support among bankruptcy experts," says Juliet Moringiello, a professor at Widener University School of Law and a former scholar of the American Bankruptcy Institute.
Moringiello notes that Chapter 9 bankruptcy is rare, although the majority of filings have been public hospitals and utilities like PREPA, not cities.
Related: Puerto Rico avoids default (for now)
Where the candidates stand: Jeb Bush has been a vocal supporter of statehood for Puerto Rico -- if the island's citizens want that.
"I think statehood is the best path, personally," Bush said in April. Since then, he has clarified that he thinks the island needs to make a number of changes to deal with its debt beyond just declaring bankruptcy, including reducing some benefits for workers.
On the Democratic side, O'Malley was an early supporter of Puerto Rico getting Chapter 9 bankruptcy rights. Senator Bernie Sanders has voiced his support for Greece, but has yet to say much on Puerto Rico.