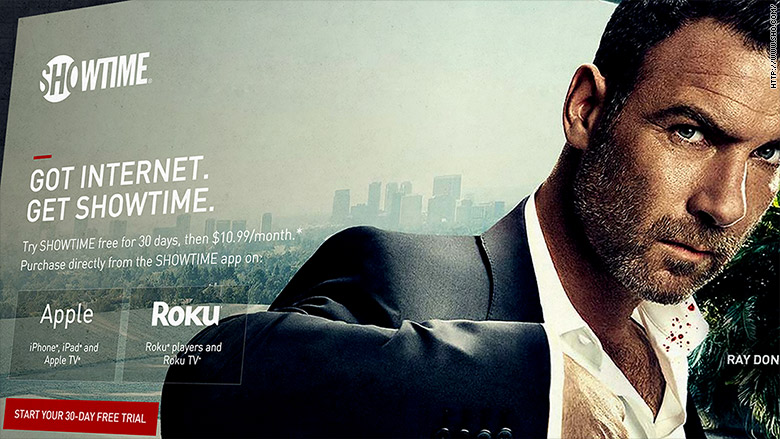 Starting today, you can subscribe to all of Showtime's programming through the Internet.
Showtime has four distribution partners for Tuesday's launch: Hulu, Apple, Roku, and the PlayStation Vue.
Each distributor is a little bit different, but they all enable subscribers to stream Showtime series like "Masters of Sex" and "Shameless" without a traditional cable or satellite account.
Until now, you had to sign up for Showtime through a cable partner like Comcast or a satellite partner like DirecTV.
That's why Tuesday's Internet launch is another significant step toward a streaming future for the media business, even though all the companies involved say they expect it to be additive, not cannibalistic in nature.
Showtime's rival HBO took the same step in April, offering an Internet sign-up option in a partnership with Apple.
Related: HBO Now launches streaming TV
Showtime's service will cost $10.99 through Apple, versus $14.99 for HBO NOW.
It'll be even cheaper through Hulu -- $8.99 a month.
The streaming service will also have a home on Showtime's own web site.
Like HBO, Showtime is promoting a 30-day free trial. It says it'll market the new way to sign up for programming with commercials, search and social ads, and in-cinema advertising.