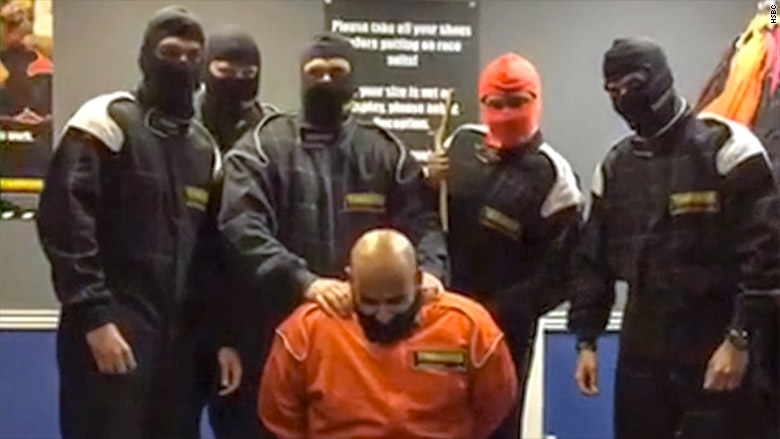 Who thought this was a good idea?
HSBC is confirming that it has fired six employees who filmed a video in which five of them pretended to be members of ISIS "beheading" their other colleague who played the role of hostage.
The video, which reportedly was posted on Instagram before it was taken down, was reported by the London tabloid The Sun. In the video, one of the men shouts "Allahu Akbar" — Arabic for "God is great," which is what has been said in some of the ISIS videos showing executions of hostages.
The banker playing the role of hostage is dressed in an orange jump suit and kneeling in front of the others with his head down, the same as some of the executed hostages. The other men are dressed in dark clothing with masks covering their faces. They give a whooping war cry and brandish what appears to be a coat hanger as if it's a knife, and then break up into laughter.
Related: HSBC to shed 50,000 jobs
HSBC's press office in London issued a statement and posted a tweet announcing the firings. It said that once it saw the "abhorrent video" the decision was made to sack the individuals. It also apologized for any offense.
"We do not tolerate inappropriate behavior," said the bank's statement.
The Sun reported that the video was filmed as part of a team-building exercise. It said that it believed the six were part of a legal team based in Birmingham, England.
The bank is under investigation by U.S. and British authorities for allegations of laundering money in Switzerland to help clients avoid taxes. It has settled those charges with Swiss authorities. The probe following a report earlier this year by the International Consortium of Investigative Journalists which charged that HSBC was laundering money for those close to regimes of former Egyptian President Hosni Mubarak, former Tunisian President Ben Ali and current Syrian ruler Bashar al-Assad.