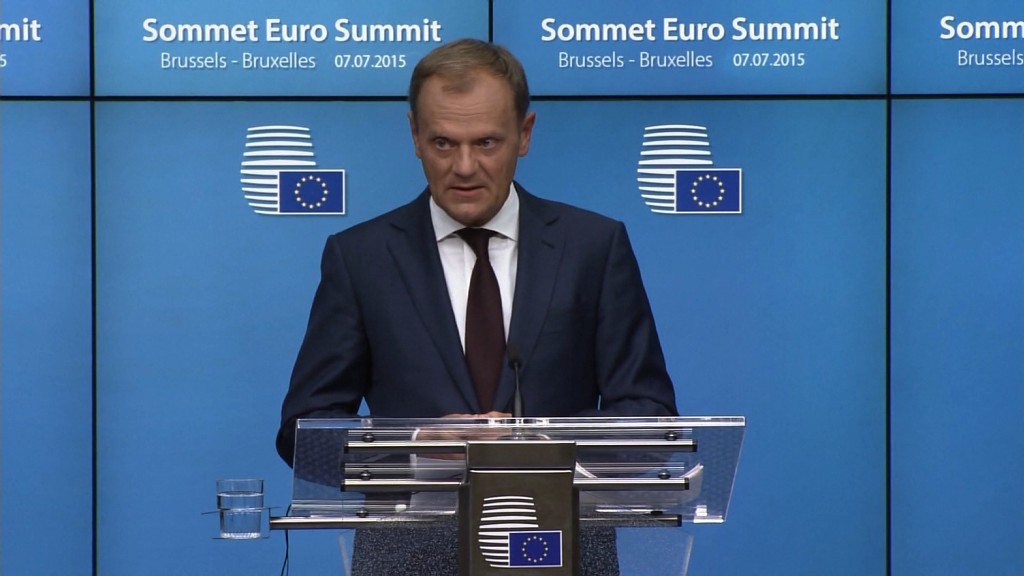 Europe has set Greece one last deadline: Show us you're serious about getting your economy into shape by Sunday, or you're out of the euro.
The stark warning followed what were described as serious and candid talks Tuesday in Brussels between Greek Prime Minister Alexis Tsipras and other European leaders, including German Chancellor Angela Merkel.
"The stark reality is that we have only five days left to find the ultimate agreement," Donald Tusk, president of the European Council, said after the emergency meeting of nations that use the euro. "Tonight I have to say it loud and clear that the final deadline ends this week."
Greece needs cash -- fast. Its banks have been shut for a week, and cash withdrawals have been capped. It has pension payments to make. Every day the economic crisis deepens, making recovery even harder.
But for month it has balked at the conditions attached. Greeks voted overwhelmingly to reject Europe's most recent offer of help in a referendum on Sunday.
Merkel said Greece would need to spell out -- by Thursday -- much more comprehensive reforms than those in the last bailout Athens recently walked away from.
Tuesday's meetings got off to a bad start when new Greek Finance Minister Euclid Tsakolotos turned up without a written proposal, saying only that it would be delivered by Wednesday.
The mood soured further when Tsipras, the prime minister, asked for temporary help to allow Greece to meet a crucial debt repayment to the European Central Bank on July 20. Merkel made clear he had it the wrong way round -- any kind of emergency funding could only follow a Greek commitment to a comprehensive rescue program.
The lack of a breakthrough means Greek banks are almost guaranteed to stay shut until Monday, at the earliest.
Assuming formal negotiations can begin after Sunday, it's still far from clear that there will be agreement on a bailout, which would be Greece's third since 2010.
Related: Why Greeks voted 'no'
Other countries using the euro have already stumped up billions in emergency loans for Greece over the past five years, and they worry about throwing good money after bad.
Finance ministers from Finland and Slovakia made clear that canceling more Greek debt -- following a similar exercise in 2012 -- was unacceptable.
"Debt relief is the most delicate issues for the majority of countries," said Slovak finance minister Peter Kazimir. "For my country, it's a red line."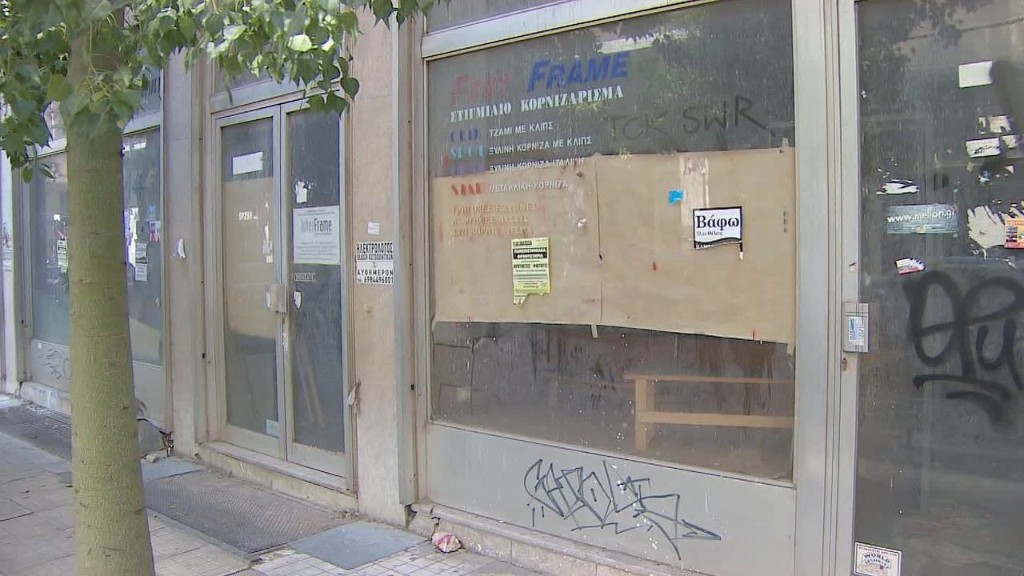 Related: Europe's time to decide: Save Greece or not?
Still, both sides say they want the same thing -- to stop Greece from becoming the first country to crash out of the 16-year old currency.
Agreement on Sunday to formally begin negotiations on a new rescue could allow the European Central Bank to pump more money into Greek banks.
No agreement and the banks will stay shut. Officials would have little choice but to start printing IOUs to pay public sector wages and pensions, perhaps as early as next week.
"While this scenario would not immediately mean Grexit... Athens would clearly be on a trajectory towards leaving the eurozone," noted analysts at Teneo Intelligence.
European Commission President Jean-Claude Juncker said he was drawing up contingency plans for a Greek exit, and for humanitarian aid for Greece.