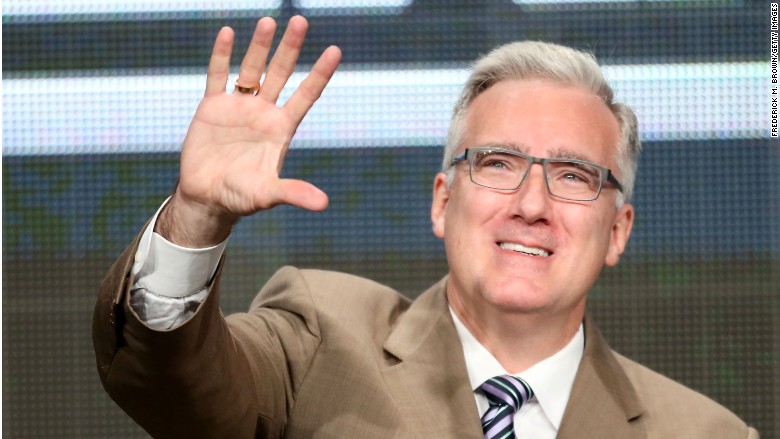 Keith Olbermann is leaving ESPN for the second time.
The outspoken television broadcaster will be leaving the sports network later this month, the network confirmed on Wednesday.
His sports news and commentary program, "Olbermann," is shown weekdays on ESPN2, the smaller sister channel of ESPN. It began in 2013.
"We wish Keith nothing but the best and trust that his skill and ability will lead him to another promising endeavor," ESPN said in a statement.
The network called Olbermann's sign-off a "business decision to move in another direction," not the result of a dispute.
That's noteworthy because Olbermann, 56, has been called a "perpetual bridge-burner" in the past.
He famously worked at ESPN in the 1990s, anchoring "SportsCenter," then moved to MSNBC, Fox Sports, back to MSNBC, and then back to ESPN.
Contrary to some of the predictions that were made when he returned in 2013, Olbermann stayed for the length of his contract, which is said to expire on July 31.
ESPN said it isn't yet clear what day he'll sign off from his program.
The news was first reported via Twitter by Jim Miller, co-author of the definitive ESPN oral history "Those Guys Have All The Fun."
There was immediate speculation in the television industry that Olbermann might return to a news network or format where he could analyze the 2016 presidential election. As a prime time anchor on MSNBC in the mid-2000s, he channeled the country's anti-war sentiments during the Iraq war and became a well-known critic of the Bush administration.
The liberal bent in MSNBC's programming is largely a result of Olbermann's success back then. After a falling-out with his bosses at MSNBC, he leapt to Current TV, a channel co-owned by Al Gore that was seeking to challenge MSNBC.
But Olbermann -- like every other host on the practically invisible Current TV channel -- struggled to draw in a big audience. He was fired just one year into a five-year-long contract worth a total of $50 million. The two sides sued each other, and they settled out of court a year later, setting the stage for his return to ESPN in the summer of 2013.
Contract renewal talks between Olbermann and ESPN reportedly turned contentious in recent weeks. Whether that's because of money, control or something else is a matter of dispute. The Hollywood Reporter said last week that ESPN wanted Olbermann to stop delivering "commentary" on his show as a condition of the contract renewal.
The network denied that, saying in a statement that "Keith Olbermann has never been told any topic is off limits for his commentary nor has continuation of it been part of any conversation about his future at the company."
ESPN suspended Olbermann in February after he got into a Twitter spat with Penn State supporters. Apart from that incident, however, he avoided public disputes or sanctions by his employers.
Some of his commentaries about the NFL and its commissioner Roger Goddell were scathing, and especially unusual given that the NFL is a major business partner of ESPN's. If that had anything to do with his departure, Olbermann hasn't said so; he has yet to comment about why he's leaving.
News reports also suggested that cost-cutting at ESPN could negatively impact Olbermann. Two people with knowledge of Olbermann's role at ESPN said the expenses associated with Olbermann and his New York City production were being targeted by executives at the network, partly because the weekday show is not particularly high-rated.
ESPN is controlled by The Walt Disney Company. Asked on Tuesday about the prospect of ESPN cost-cutting and Olbermann's possible departure, Disney CEO Bob Iger said he had "nothing to say on that."
The network declined to comment on the ratings or other financial factors on Wednesday.
But its statement praising Olbermann emphasized the quality of his program.
"Keith is a tremendous talent who has consistently done timely, entertaining and thought-provoking work since returning to ESPN," the network said. "While the show's content was distinctive and extremely high quality, we ultimately made a business decision to move in another direction."