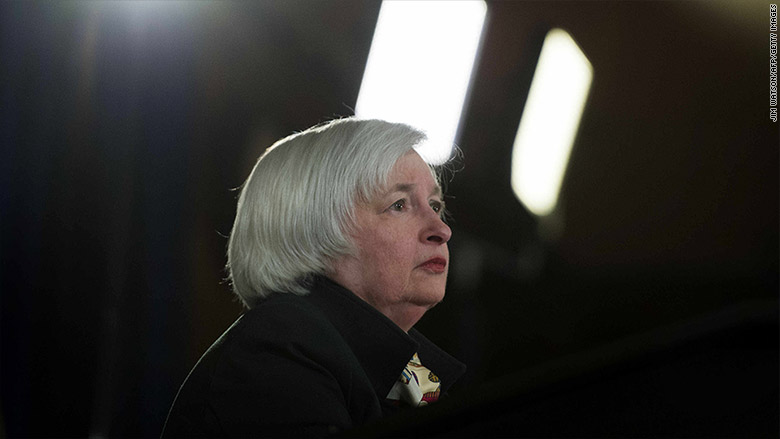 The Federal Reserve is worried about Greece hurting the U.S. economy. That could make the Fed pause on a rate hike.
In a shift from the Fed's April meeting, the banks' committee members grew more concerned about Greece's impact on the United States.
"Many participants expressed concern that a failure of Greece and its official creditors to resolve their differences could result in disruptions in financial markets in the euro area, with possible spillover effects on the United States," according to the Fed's minutes of its two day meeting which started June 16.
Much has already happened since the Fed's June meeting. Greece is now asking for a third bailout. China's stock market is tanking as the government tries to prop it up. Puerto Rico is still at risk of defaulting on its debt later this year.
Related: Will Greece delay a Fed rate hike?
Fed Chair Janet Yellen will offer an updated view on the bank's outlook on Greece in a speech on Friday.
"The [Fed's committee] recognizes Greece as a risk to the forecast, but ultimately they are thinking, 'How does this affect the U.S. economy?'" said Luke Tilley, chief economist, Wilmington Trust Investment Advisors. Tilley believes it's still possible the Fed will raise rates twice this year, starting in September.
Yellen and other committee members must determine this summer whether these developments will delay a Fed rate hike. The U.S. economy is not directly exposed to the Greek crisis. But it's tied to Europe's economy, which is tied to Greece. If the dominoes start to fall, America's economy could get hit.
Many economists believe the Fed will raise its key interest rate in September, a move that would signal that the economy is almost fully recovered from the Great Recession. Rates have been at zero since late 2008.
Related: The Greek crisis in 2 minutes
Some experts believe Greece will have a limited impact on the Fed's thinking as a potential rate hike, or "liftoff," approaches.
"Greece has spiraled downward," says Mike Materasso, senior vice president at Franklin Templeton Investments. But: "The Fed will be looking domestically."
The Fed's has two big goals: improve the job market and get inflation to rise to 2%. The job market is getting better by most measures, but inflation is still flat. If Greece or China appear to hurt those goals, the Fed might wait beyond September to raise rates.
However, the Fed's committee affirmed that it remains on the path to raising rates this year.
"Members thus saw economic conditions as continuing to approach those consistent with warranting a start to the normalization of the stance of monetary policy," according to the Fed's minutes. Translation: A September rate hike is still an option.