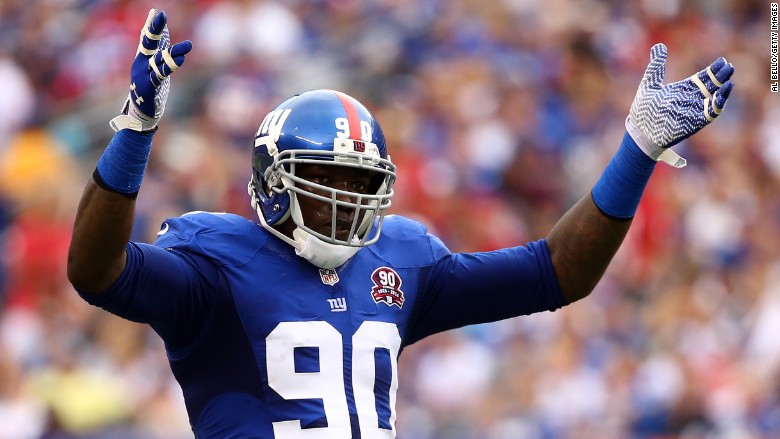 A Florida hospital said Thursday that it has launched an "aggressive" investigation into the release of an NFL player's private medical records.
The probe comes a day after ESPN reporter Adam Schefter tweeted a photo of a medical chart indicating that New York Giants defensive end Jason Pierre-Paul had a finger amputated, the result of a fireworks accident on the Fourth of July.
ESPN defended Schefter's reporting, noting that the 1996 law safeguarding the privacy of medical records -- the Health Insurance Portability and Accountability Act or "HIPAA" -- "does not apply to news organizations."
But the law does apply to Jackson Memorial Hospital in Miami, where Pierre-Paul was being treated. Carlos A. Migoya, the president and CEO of Jackson Health System, said in a statement that he's troubled by the allegations that a hospital employee leaked the chart to Schefter.
Related: ESPN reporter tweets NFLer's medical chart
"Late Wednesday, media reports surfaced purportedly showing a Jackson Memorial Hospital patient's protected health information, suggesting it was leaked by an employee. An aggressive internal investigation looking into these allegations is underway," Migoya said. "If these allegations prove to be true, I know the entire Jackson family will share my anguish."
"If we confirm Jackson employees or physicians violated a patient's legal right to privacy, they will be held accountable, up to and including possible termination," Migoya said.
A spokesperson for the hospital did not respond when asked if a criminal probe is also underway.
A spokeswoman for the U.S. Department of Health and Human Services said the agency is "aware" of the incident and said it has the authority to investigate. The spokeswoman, however, cited a policy of not confirming ongoing investigations.
CNN Sports reached out to Pierre-Paul's agent Eugene Parker, the NFL and the players' union, but so far has not received a response.
Schefter said Wednesday on Twitter that "ESPN obtained medical charts" showing that Pierre-Paul's right index finger had been amputated earlier that day. The tweet, which included a photo of the medical chart, set off an immediate uproar. Many Twitter users accused Schefter of a flagrant violation of privacy. Soon, "HIPAA" was a trending term on the social network.
But the law only applies to medical professionals. Arthur Caplan, the director of the medical ethics division at New York University's Langone Medical Center, said that the records "should not be released without [Pierre-Paul's] explicit consent," which could spell trouble for the individual who leaked them to ESPN.
As Caplan put it, "theft is a serious matter."