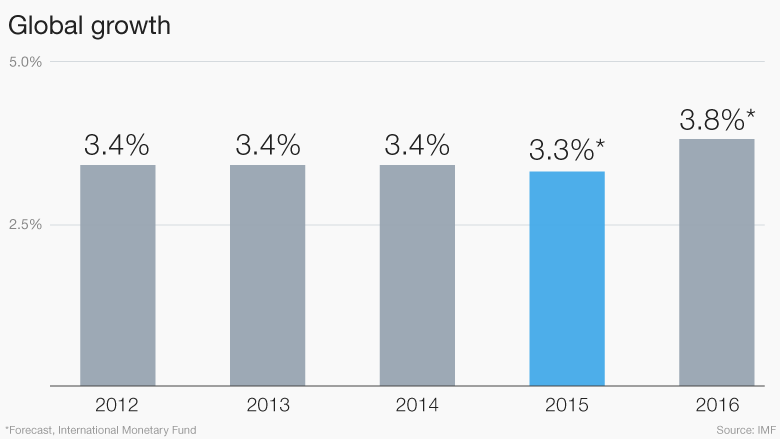 Ouch.
The world economy is expected to slow this year, according to the latest forecast from the International Monetary Fund.
The IMF expects the global economy will grow by just 3.3% this year, down from its previous forecast of 3.5%.
That means growth will be even slower than in 2014, when global GDP rose by 3.4%.
Who is to blame for this weaker outlook? The IMF points the finger squarely at the U.S., where a contraction in the first quarter also dragged down Canada and Mexico.
The IMF blamed "one-off factors" such as a harsh winter, port closures and reduced investment in the oil industry for the weaker U.S. activity.
Things should be better later this year, at least for the U.S. and other advanced economies.
"The unexpected weakness in North America, which accounts for the lion's share of the growth forecast revision in advanced economies, is likely to prove a temporary setback," the IMF said in its July economic forecast.
Easy monetary policy, low fuel prices, improving confidence and better labor market conditions should support activity through 2015.
But the year could turn out even weaker than the IMF predicts if growth is dragged down by events in Greece and China.
Related: Economists are very worried about China's stock market
The IMF noted that increased financial market volatility could put a damper on the global economy. The fallout from Greece's credit crisis is hard to predict, and could escalate if it drops out of the eurozone, and China's stock market crash has already sent shock waves through global commodity markets.
The IMF also noted that increased geopolitical tensions in Ukraine, the Middle East and parts of Africa could also throw the global economy off course.