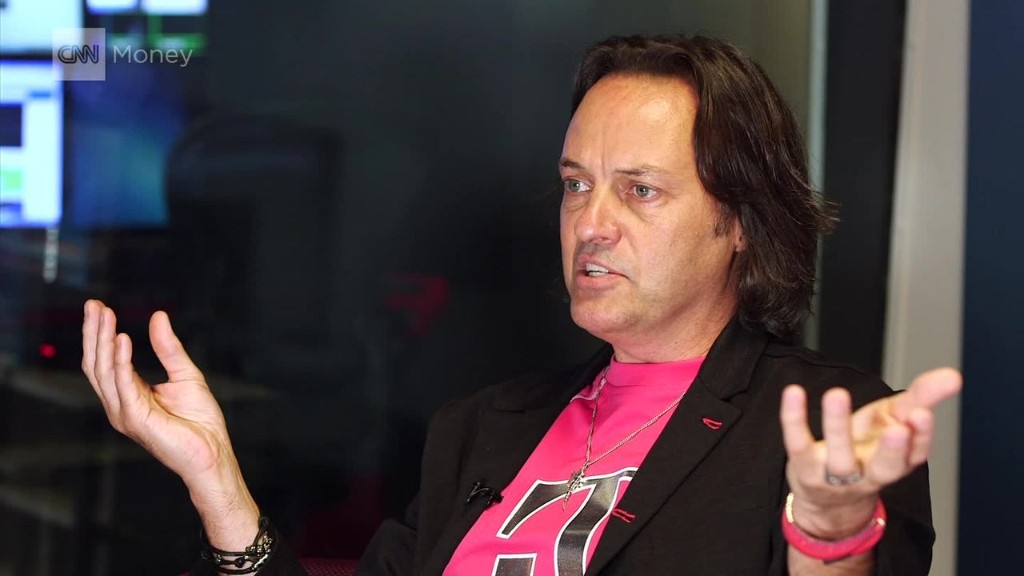 Next week, T-Mobile's U.S. customers will be able to call folks in Canada and Mexico -- and to make calls while traveling there -- without any extra fees.
Thursday's announcement of "Mobile Without Borders" is the latest round in T-Mobile's "uncarrier" strategy, which aims to make the company the populist, customer-friendly cellular company.
It tackles a big annoyance in the cell phone world: varying fees whenever you make calls (to or from) across the border.
"We've just created one gigantic country in North America," said T-Mobile CEO John Legere. "This is about creating a continental experience. The communication across borders should be seamless."
The new T-Mobile (TMUS) policy starts Wednesday, July 15 and will be available to U.S. customers on its unlimited call, text and data plan, Simple Choice.
Americans make 35% of their international calls to Canada and Mexico, according to the company, and those countries account for 55% of American international travel.
Large American carriers, like AT&T (T) and Verizon (VZ), take advantage of that by raking in hefty roaming charges that are 90% profit, Legere said on a call with reporters.
That's why half of all people shut off their phone when they cross the border, Legere said. T-Mobile wants to give them a reason to keep it turned on.
T-Mobile said it struck deals with partners in Canada and Mexico to extend its high-speed, 4G LTE cellular service abroad. Likewise, these deals will allow some Canadians and Mexicans to make calls in the United States without fees. No partners were named.
These types of partnerships typically result in heavy fees for the carrier. How can T-Mobile afford to do it without charging extra fees? T-Mobile chief marketing officer Andrew Sherrard told CNNMoney it's a matter of priorities.
"It's about giving customers what they want," he said. "It is about growth and loyalty, and getting more customers to stay with us. That dwarfs the costs we may incur additionally here."
On the call, Legere gloated about beating a larger rival, AT&T, to allow Americans to easily make calls from Mexico. Earlier this year, AT&T spent $4 billion to acquire two major Mexican operators, Nextel Mexico and lusacell. But that unified network doesn't help Americans at all, said Legere.
T-Mobile's announcement comes just two weeks after it unveiled a new plan that lets customers upgrade their phones whenever they want. In the past two years, T-Mobile has eliminated contracts, killed roaming fees, slashed per-minute and text charges, and it began letting customers roll over unused data.
And there are signs that these kinds of stunts are working. On Thursday, the company said it added 760,000 customers who pay a cell phone bill at the end of the month. That brings the total number of customers to 58.9 million.
But there's no indication that T-Mobile aims to pick up new subscribers in Canada or Mexico with this latest announcement.
"This isn't really about us trying to market beyond our borders," Legere said.
T-Mobile markets heavily to immigrants in the United States, and Legere said this feature will be particularly helpful to them. On the call, Legere also took a shot at Donald Trump for his recent anti-immigrant statements.
"The only time he's going to say something stupid is when he speaks," he said.