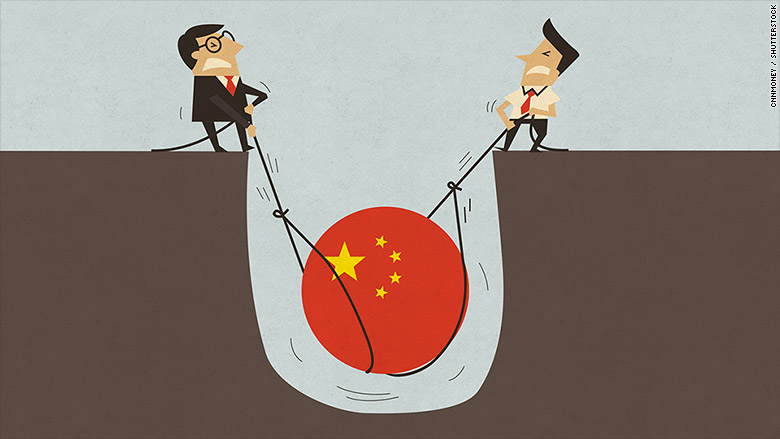 China is poised to post its worst quarterly growth since the financial crisis, according to a CNNMoney survey of economists.
Gross domestic product is forecast to have expanded by 6.9% in the second quarter, compared to the same period last year, according to the survey's median estimate.
The estimate is a bit lower than the 7% GDP growth rate from the first quarter. Looking ahead, economists expect to see 6.95% annual GDP growth for this year, and even slower expansion at 6.5% in 2016.
There's no question about it: After years of breakneck growth, China's economy, the world's second-largest, is now slumping. Economists say the government has no choice but to continue working to stimulate the economy, especially as data points continue to disappoint and risks keep piling up.
The numbers are expected "to show another tepid growth in real activity," said UBS economists Harrison Hu and Wang Tao. The "sluggish economy ... is prompting the authorities to escalate policy supports."
China's central government has already cut interest rates three times this year -- most recently, just two weeks ago. Experts say the rate cut came earlier than expected, likely as a defense against a worrying stock market plunge over recent weeks.
Another rate cut is expected in the second half of the year, along with a reduction in the amount of cash that banks are required to keep on reserve.
Related: Economists are very worried about China's stock market
Fifty percent of economists surveyed by CNNMoney said that stock market turmoil is now a major risk to China's economy. This is the first time that markets have been singled out as a concern, marking a shift from earlier surveys, which showed economists were consistently most worried about the property sector.
China stocks have been on a wild roller-coaster in recent weeks, at one point wiping away more than $3 trillion in market value. The benchmark Shanghai Composite, for example, has dropped roughly 30% since June 12, after surging for most of the year. Things are so bad that roughly half of China's 2,800 listed companies have suspended trading.
Economic growth of 6.9% would fall roughly in line with the government's 7% target. But given the way things are going so far this year, economists expect Beijing to reduce the target for 2016 as growth trends lower.
GDP remains the most comprehensive gauge of the country's economic health -- an important number to watch as the government tries to steer the country towards consumption-driven growth.
The National Bureau of Statistics will announce second quarter GDP numbers on July 15.