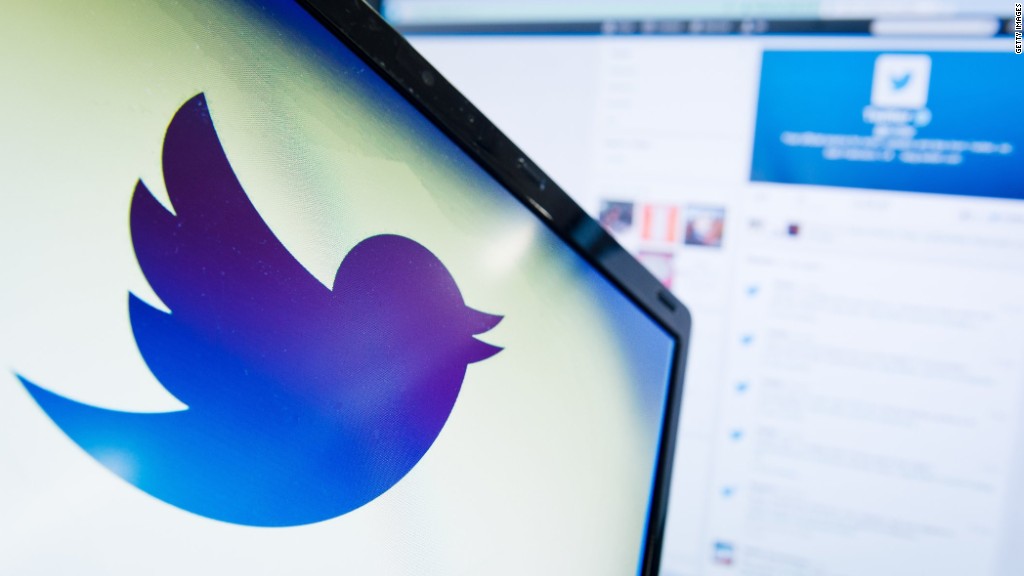 Twitter was flying high on Tuesday -- but for all the wrong reasons.
Shares of Twitter (TWTR) briefly popped more than 8% following the circulation of a fake Bloomberg News story indicating the struggling social media platform had received a $31 billion buyout offer. The stock retreated and closed up only 2.6% after it became clear the article was a hoax.
At first glance, the story looked legit. It appeared on a website that looked awfully like Bloomberg's, linked out to other Bloomberg sites and even carried the byline of a real Bloomberg reporter.
However, a closer look reveals it's a hoax. Its URL started with Bloomberg.market instead of Bloomberg.com. The article also misspelled the name of Dick Costolo, the former Twitter CEO who recently stepped down amid the company's struggles.
A Bloomberg spokesman confirmed to CNNMoney the story was "fake and appeared on a bogus website" not affiliated with the news service.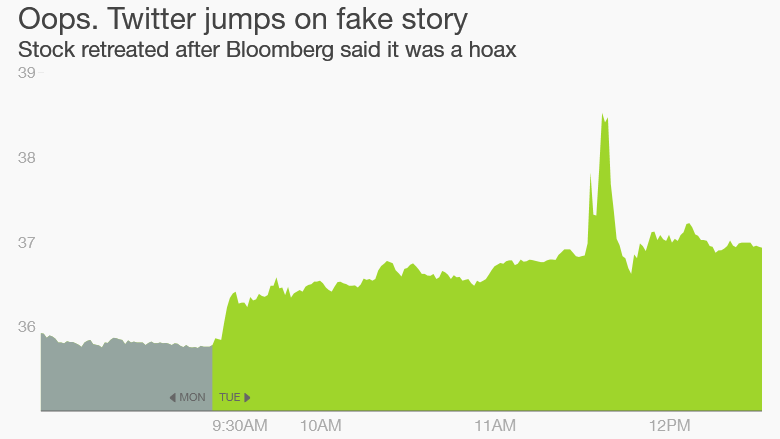 Still, buzz about a takeover was believable enough to spike Twitter's stock. It jumped as high as $38.82 shortly before noon ET on Tuesday.
After a Bloomberg spokesman sent out a message (ironically, on Twitter) saying the story was bogus, the Twitter rally faded.
Talk of a Twitter buyout is nothing new. The company's struggles have led to ample speculation that it could be acquired by a larger, cash-rich rival like Google (GOOGL) or Facebook (FB).
Related: Find stocks expensive? Bonds are pricier
Who did it? It's not clear yet who may have carried out the Twitter hoax. The fake Bloomberg site is registered to a P.O. Box listed in Panama, according to domain search site WHOis.net.
Investigators will likely examine records of securities transactions to find out who benefited from the Twitter stock bounce. They will also use sophisticated cyber security tools to attempt to find out who created the domain, said Michael Greenberger, a former top official in the Commodity Futures Trading Commission.
"It's not a surety that the perpetrator can be identified, but I'm sure a lot of efforts will be made beyond searching a P.O. Box in Panama," said Greenberger, who is currently a law professor at the University of Maryland.
The Securities and Exchange Commission declined to comment to CNNMoney on whether it was investigating the Twitter incident.
Related: Jamie Dimon on Greece & China: What crisis?
Criminal market manipulation charges: If the perpetrators are found, they could face civil and criminal charges of stock manipulation from the SEC and the Department of Justice, respectively, according to Eugene Goldman, a former senior counsel in the SEC's Division of Enforcement.
"It seems designed to manipulate the market, assuming they invested in Twitter stock before they put up the website," said Goldman, who is currently a senior member of the White Collar/SEC Defense practice at the law firm McDermott Will & Emery.
Market manipulation refers to stock prices being artificially raised or lowered. One example includes "pump-and-dump" schemes designed to create dramatic moves in volatile penny stocks.
More phony M&A rumors: It's not the first time bogus buyout rumors have sent a stock soaring recently. In May Avon (AVP) shares surged as much as 20% after an entity calling itself PTG Capital filed a letter with the SEC claiming it wanted to buy Avon for triple its share price at the time. The filing, which also had typos in it, turned out to be a hoax and Avon shares retreated.
"These are people who are very sophisticated in putting out these stories and websites. But for some strange reason, they can't proofread. You always find typos and/or grammatical errors," said Charles Whitehead, a securities law professor at Cornell Law School.
Last month the SEC filed a complaint against two investment firms, two fake companies and one Bulgarian man for manipulating stock prices in the Avon hoax.
One trader joked about a future buyout target for Avon, whose ticker symbol is "AVP."
"Any truth to the rumor that $AVP is buying $TWTR for 72/share?" user GreatStockPix wrote on StockTwits.