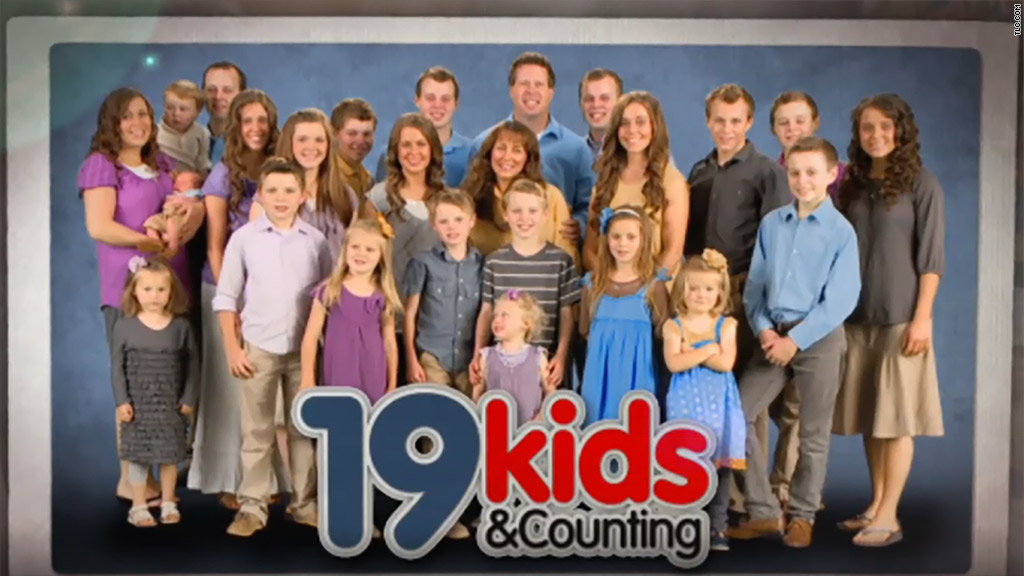 The reality show "19 Kids and Counting" is never coming back to TLC.
The cable channel said Thursday that it has officially canceled the show, nearly two months after revelations about acts of child molestation committed by one of the 19 kids, Josh Duggar, when he was a teenager. Several of his sisters were among the victims.
TLC initially pulled the past episodes of "19 Kids and Counting" from its schedule, but kept open the possibility that the show would resume someday.
Now it's saying production of the series will not resume, despite its longtime popularity.
"TLC and the Duggar family have decided to not move forward with '19 Kids and Counting,'" the channel said in a statement. "The show will no longer appear on the air."
However, a spokesman for Discovery Communications, which owns TLC, said the channel is not ruling out a spin-off show featuring some of the Duggar children in the future.
"With God's grace and help Josh, our daughters and our entire family overcame a terrible situation, found healing and a way forward," the Duggar family said in a statement.
"It is our prayer that the painful situation our family went through many years ago can point people toward faith in God and help others who also have lived through similar dark situations to find help, hope and healing, as well," the statement continued. We appreciate the love, support, prayers and kindness extended to us by many of you. You have deeply touched our hearts and encouraged us, during this time."
Related: Advertisers flee the show
Discovery will be producing and airing a one-hour special on the issue of child molestation, featuring two of the Duggar women who were molested.
TLC said the documentary will air commercial-free "later this summer."
"We look forward to working with TLC on this upcoming special documentary and hope that it is an encouragement to many," the Duggar family said.
The advocacy groups RAINN (short for the Rape, Abuse & Incest National Network) and Darkness to Light will be partnering with TLC for the documentary.
"Together, we believe we can help families that have been affected by this terrible crime and make sure that parents and others have the knowledge and tools they need to help keep kids safe," RAINN said in a statement on Thursday.
Marjorie Kaplan, the Discovery executive who oversees TLC, told the Associated Press that "we have a real obligation and an opportunity" to educate people about the prevalence of child sexual abuse.
"The goal is to take what has been a difficult and painful experience, and focus that attention on the really critical issue of child protection and child sexual abuse," Kaplan said.