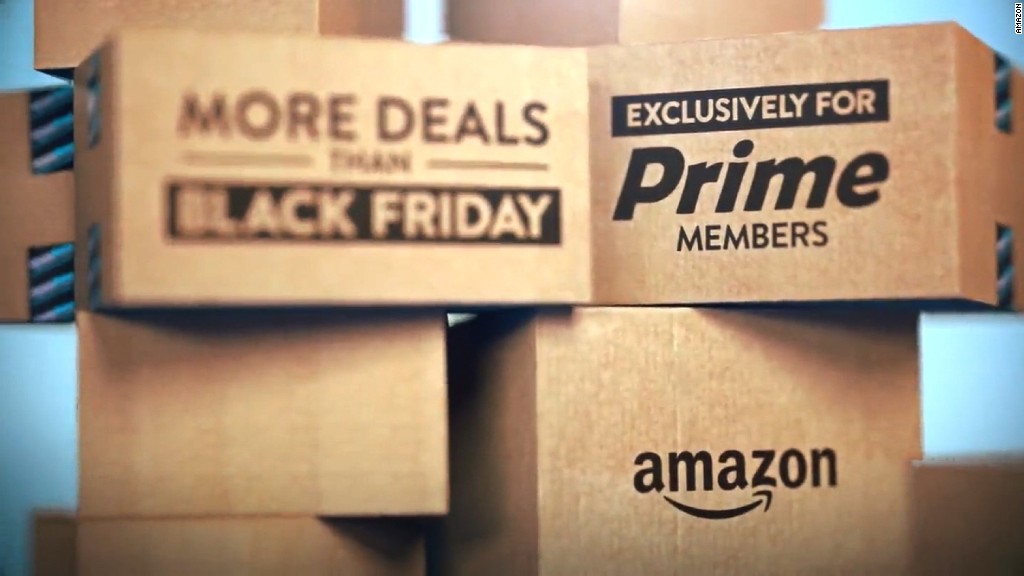 Amazon customers may not have been happy about Amazon's "Prime Day" sales, but they sure were buying a whole lot from the site.
Sales in the United States rocketed up 93% for Amazon (AMZN) Wednesday, according to online retail tracker ChannelAdvisor. European sales grew by 53%.
ChannelAdvisor gathers data from companies that sell items on Amazon, extrapolating from its clients the number of sales Amazon generates site-wide.
By Amazon's own account, the mega-sale's "peak order rates" had surpassed last year's Black Friday. (We're not sure exactly what that means either; Amazon is notoriously opaque about its sales figures).
Related: You won't believe what items are hot on Amazon
The sales surge is in stark contrast to the negative response on social media about the site's lackluster "Lightning Deals" and the fact that some products sold out in a matter of seconds.
Addressing complaints that desired products were not being discounted, Amazon said, "We have years of experience with these types of events and we stagger the deals to make sure the fun will last through tonight."
Amazon promoted its sale as having more discounts than Black Friday. Although the sale was only open to Prime members, Amazon offered free 30-day Prime trials so anyone could partake.
It sure got people talking. According to Adobe (ADBE), social media mentions about Amazon were up about 50% Wednesday compared to the 30-day average.
It was mostly negative chatter, though. Half of the overall social sentiment about Amazon Prime Day was related to disappointment about the lack of blockbuster deals. Adobe said people were upset that sales were for less desirable items, such as "socks, microfiber towels and Adam Sandler movies." Only 42% of social media mentions were positive.
Californians were talking about Amazon Prime Day the most, commanding 12% of the conversation in the United States. That's in part due to the fact that many West Coasters were furious that they woke up to sold-out deals that those nasty East Coasters had already bought up earlier in the morning. Yet Adobe said Californians in large part had the most positive things to say about Amazon Prime Day, beating out New York (the second most-positive state).
Still, compared to Black Friday, Amazon Prime Day produced just 1/20 of the social media noise. It generated about 200,000 social mentions, compared to the 3 million social mentions from Black Friday 2014.
Both Amazon and Wal-Mart (WMT) launched their big sales on thousands of products Wednesday morning at 12:01 am PT.
Wal-Mart's site featured a banner urging customers to compare their prices to Amazon's and announcing "thousands of new Rollbacks!"
"We've said all along, we don't believe customers want to pay extra for a one-day sale and Wednesday proved it," Walmart told CNNMoney. "The last three days have been among some of our biggest days ever for online orders ... Wednesday was the highest day of the year for same-day pickup in Walmart stores, with orders increasing triple digits over the same day last year."