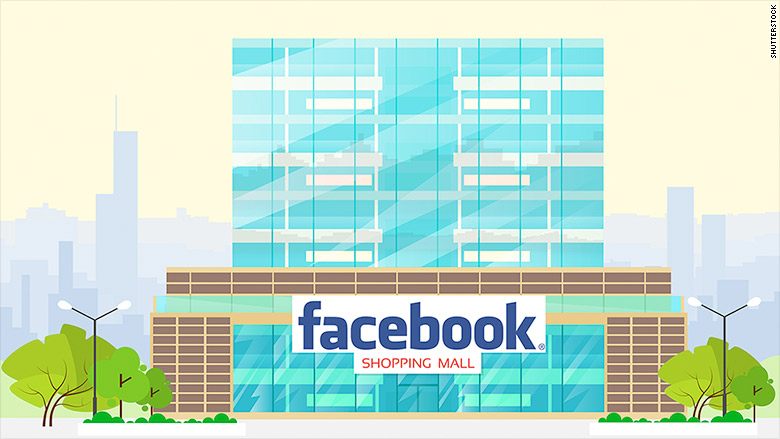 Facebook is testing a way to become a virtual shopping mall.
To do this, the social network will help businesses transform their Facebook pages into e-commerce sites.
A retailer, for example, could list and sell products directly through its Facebook (FB) page. People who visit the page would be able to browse, shop and pay without ever leaving Facebook's mobile app, or Facebook.com. (This story was first reported by BuzzFeed.)
This idea is appealing for companies who want as many ways to sell their products as possible. On the other hand, if more businesses start selling on Facebook, they'll be at the mercy of Facebook's algorithms and probably have to start buying ads to make sure people see their products. Facebook could also start taking a cut of sales in the future, resulting in possibly higher prices for customers.
At the end of the day, this experiment will likely become a reality. It fits well with what Facebook has already become very good at doing -- online communication and advertising.
During its F8 conference earlier this year, CEO Mark Zuckerberg announced that users will be able to chat with businesses and track packages within Messenger, and transfer money between friends.
Giving companies a way to sell their products would tie these strings together. More importantly, the plan would reinforce Facebook's message that the data it has on its users are better than anyone else's. This is especially important for ad targeting. After all, if you're an advertiser paying to show people a post that people can click on to buy something, you'll see an immediate and direct pay off for your investment.
Google (GOOGL) -- Facebook's biggest competitor -- has been working on its own version of a "buy now through us" strategy. Just this week, Google launched the ability for businesses to sell products through its site, so that when people click on a Google shopping ad, they're taken to the page where they can check out using saved payment information from their Google accounts.