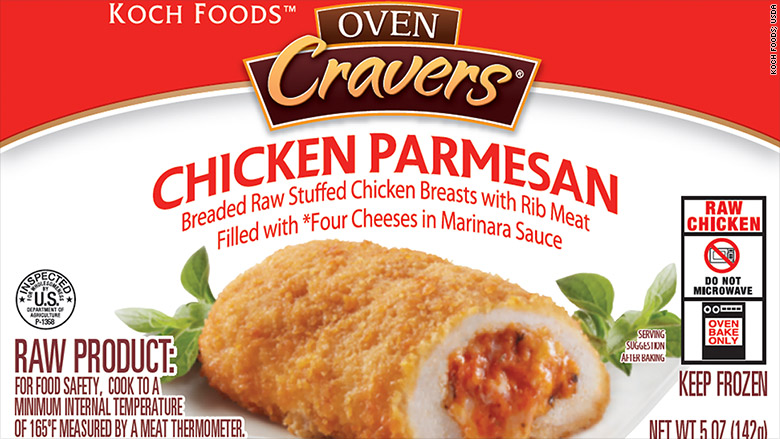 Several million pounds of frozen chicken are being recalled after between 10 and 11 people got sick from salmonella.
Aspen Foods is recalling nearly two million pounds of frozen chicken after three people became ill in Minnesota, according to the U.S. Department of Agriculture. That brings the USDA's tally to 11, after taking into account the eight people who became recently became ill with salmonella in Minnesota and Wisconsin leading to a frozen chicken recall by Barber Foods.
The Centers for Disease Control provides a slightly different figure, of 10 people being sickened: 8 in Minnesota, 1 in Wisconsin, and 1 in Oklahoma after eating chicken from either Barber Foods or Aspen Foods.
The USDA said in a statement that it was concerned that "some product may be in consumers' freezers."
The Aspen Foods recall applies to raw, breaded stuffed chicken breasts manufactured from April 15 to July 10, according to the USDA's Food Safety and Inspection Service and Koch Poultry Company of Chicago, which owns Aspen.
The chicken labels say "best if used by" July 14, 2016, and Oct. 10, 2016. Koch said the recall applies to breaded cordon bleu, breaded broccoli and cheese, breaded chicken Kiev, breaded chicken Parmesan and breaded buffalo-style chicken.
Recall: Bird flu drives egg prices to record increase
The Barber Foods recall applies to frozen, raw chicken products produced between Feb. 17 and May 20, and also on Jan. 29. The USDA said the recall specifically applies to 2-pound, 4-oz. boxes of "premium entrees breaded-boneless raw stuffed chicken breasts with meat Kiev."
The USDA said that some consumers might not realize the chicken products are raw, and that they might not be cooking them thoroughly enough to kill the salmonella bacteria.
The problem seems to stem from the fact that the raw chicken products look like they've already been prepared. And microwaving is not sufficient in cooking the raw meat or eliminating the bacteria.
Symptoms of the illness include diarrhea, abdominal cramps and fever within 12 to 72 hours after exposure to the bacteria.