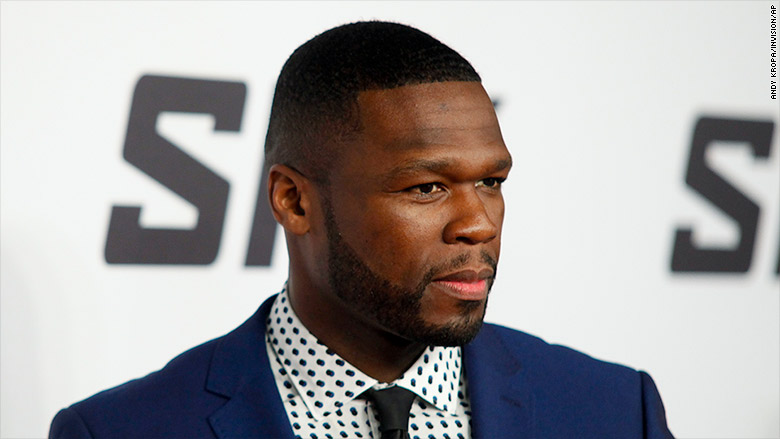 The rapper/producer/actor 50 Cent put himself in the middle of contract negotiations between cable programmer Starz and AT&T in a very public way.
Curtis Jackson -- otherwise known at 50 Cent -- called AT&T (T) "racist" in posts on his widely-followed Twitter and Instagram accounts. He said AT&T wants to keep "urban friendly" programming off its lineup.
At issue: His worry that episodes of his popular series "Power" won't be seen by lots of viewers if AT&T drops Starz (STRZA).
"Change your cable package from AT&T to anything else," Jackson wrote. "It's 2015 and these people are still racist. They are dropping all channels that are considered urban friendly."
Talks between programmers and cable operators frequently get messy. Programmers want their content carried and cable companies, which pay for the programming rights, want to cut the best deal they can.
Neither AT&T nor Starz would comment on the terms of their contract, but the Los Angeles Times has reported that it expires at the end of July.
Jackson produces and plays a role in the fictional series "Power," which Starz began showcasing last year.
The second season of "Power" began last month and runs through August.
AT&T strongly denied Jackson's claims, saying the companies are working "diligently" on a new contract.
"Starz and their paid talent can spin up whatever they like, but the bottom line is we're NOT going to negotiate a deal that is bad for customers," AT&T said in a statement. "In these negotiations, our customers are all that matter to us."
A Starz spokesperson also said negotiations were ongoing.
"Starz has enjoyed a strong and mutually beneficial relationship with AT&T until now. We are hopeful AT&T will negotiate in good faith and that we will reach a fair agreement," according to a statement from the company.
Starz said it has "millions" of viewers on AT&T who are "at risk of losing these channels and the popular original programming like 'Power' and 'Outlander,' as well as thousands of movies."
"Power" is the best-performing series in Starz's history, garnering 6.3 million viewers across platforms.
"Power" also has the largest concentration of black viewers for a scripted premium cable series since 2006, according to Starz.
It's unclear how lucrative the show has been for Jackson.
The rapper filed for bankruptcy protection last week, saying he was laboring under big court judgments.