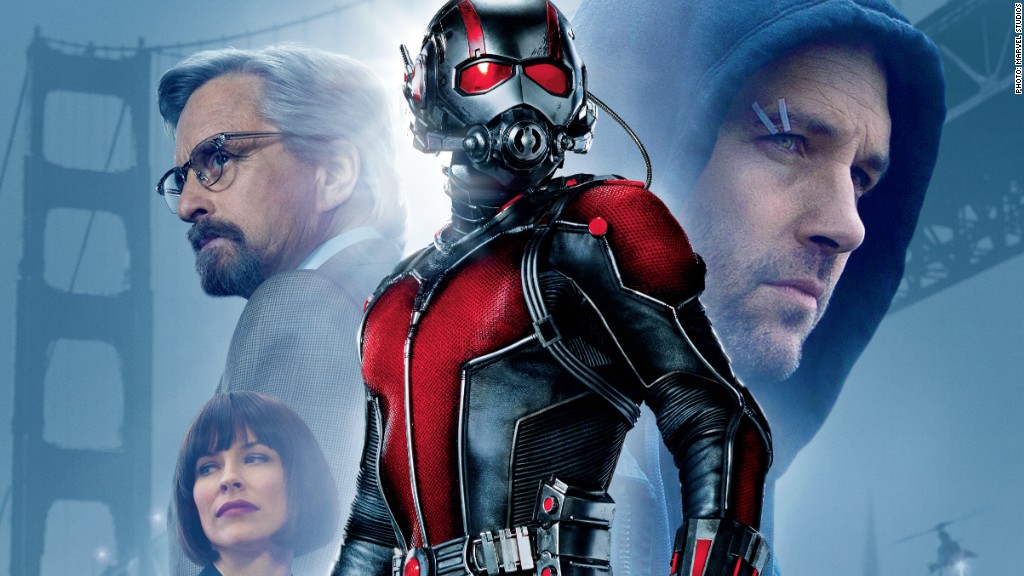 In the box-office battle of the little guys, it was Marvel's "Ant-Man" over Universal's "Minions."
The Disney (DIS)-owned Marvel Studios introduced its latest superhero this weekend with "Ant-Man," which brought in an estimated $58 million at the U.S. box office this weekend.
That was good enough to take the weekend's No. 1 spot. The Paul Rudd film became the 12th straight Marvel movie to win its opening weekend.
Quite the feat considering that "Ant-Man" is a pretty obscure character compared to fan favorites like Iron Man or Captain America.
"The film is the latest example of the brand carrying the weight of familiarity with audiences and thus giving a relatively unknown character the top spot," said Paul Dergarabedian, senior media analyst at Rentrak (RENT).
"Ant Man" went up against two big films from Universal: the Amy Schumer comedy "Trainwreck" and the animated smash "Minions."
Coming off a huge opening weekend, Universal's "Minions" bought in a healthy $50.2 million in the U.S. in its second week.
Related: 'Minions' grabs second-biggest animated opening ever
This puts the box office haul so far by the little yellow creatures at $216.7 million domestically after just 10 days in theaters.
As for Universal's new release, "Trainwreck," the R-rated comedy exceeded expectations with a $30.2 million U.S. opening.
It appears much of the comedy's success is attributed to a star-turn performance by Schumer, good reviews and a strong female turnout. (66% of the film's audience was female, according to studio data.)
Overall, weekend ticket sales were up roughly 30% compared to the same weekend last year.
And with "Mission: Impossible - Rogue Nation" and the "Fantastic Four" reboot still on the way, the summer is far from over.