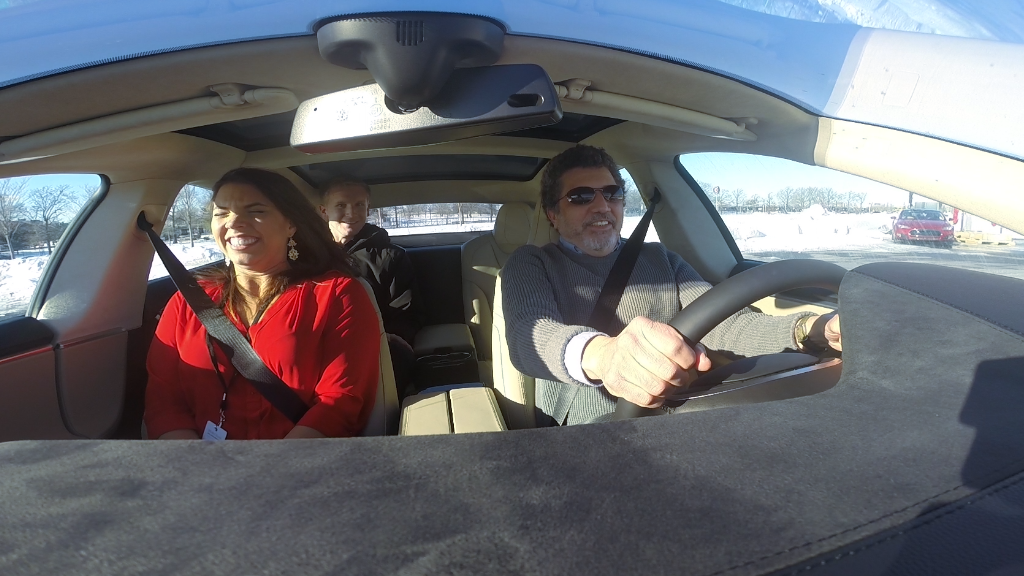 Tesla's stock price has officially gone into "ludicrous" mode.
At least that's the message from UBS, which is urging investors to slam the brakes on Tesla (TSLA). The investment bank slapped a rare "sell" rating on the Elon Musk company on Tuesday.
UBS believes Wall Street's lofty growth expectations have gotten out of whack with reality. Investors are overvaluing both of its businesses -- electric cars and storage batteries -- and underestimating the challenges ahead, the firm said.
That's why UBS dialed back its price target on Tesla to $210 from $220. That means UBS believes Tesla shares could drop 26% from where they closed on Monday.
The downgrade comes just days after Tesla unveiled a "ludicrous mode" for the new Tesla Model S P 90D that gets drivers to 60 miles per hour in just 2.8 seconds.
"Any significant problems with the current or future products would likely cripple the company in the early stages of its growth," UBS analyst Colin Langan wrote in a research report.
At least some investors are heeding the warning, driving Tesla shares nearly 5% lower on Tuesday, though it remains up 22% so far this year.
Related: Millennials love Tesla stock
High costs, heavy competition: Langan believes Tesla will disappoint Wall Street on autos and storage batteries alike.
He pointed to accelerating auto costs implied by Tesla's lofty goal to reach 1.5 million deliveries. That target could mean $6 billion to $9 billion in extra costs to pay for new assembly plants and possibly two more gigafactories. Those investments will eat into Tesla's potential profits.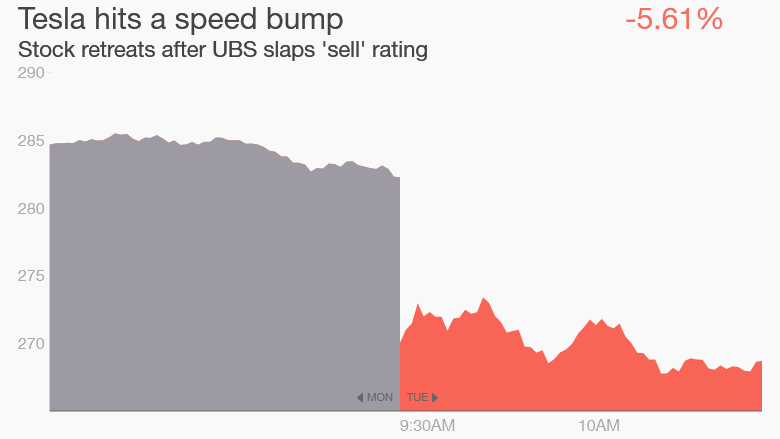 UBS is also concerned about competition from other luxury car makers that are likely to launch their own electric vehicle competitors. At 1.5 million vehicles, Tesla would be six times the size of Porsche today, twice as large as Lexus and just slightly smaller than BMW.
"These automakers will not cede share easily," Langan wrote.
Related: Tesla to offer 'Ludicrous Mode'
Will mainstream customers buy battery packs? Tesla unveiled a wall-mounted battery in May that can be installed in homes and businesses as a way to slash energy costs.
Musk recently said demand was "off the hook" for the batteries, which save consumers money by powering up overnight when electricity is cheaper.
However, UBS believes these early orders were "misleading" because customers did not put down deposits -- and most orders were from "green" customers, not mainstream consumers.
"Once these orders are filled, making the mass market leap will likely be difficult given the challenging economics," Langan wrote.
Related: Elon Musk reveals cause of SpaceX explosion
Battery math doesn't add up: Tesla plans to have 15 gigawatt hours of storage capacity by 2020, but UBS think that may actually exceed the total market demand.
The firm expects market demand of just 3.2 gigawatts by 2020, or less than half current market estimates of 7.2 gigawatts. Due to high installation costs, UBS thinks storage batteries just don't make much financial sense for most residential users and many businesses, aside from utilities.
But even if demand is as high as the market currently estimates, UBS said Tesla needs to corner 75% of the market to fully utilize its storage capacity.
"The slow storage ramp leaves ample room for new entrants and technology to erode TSLA's early mover advantage," Langan wrote.