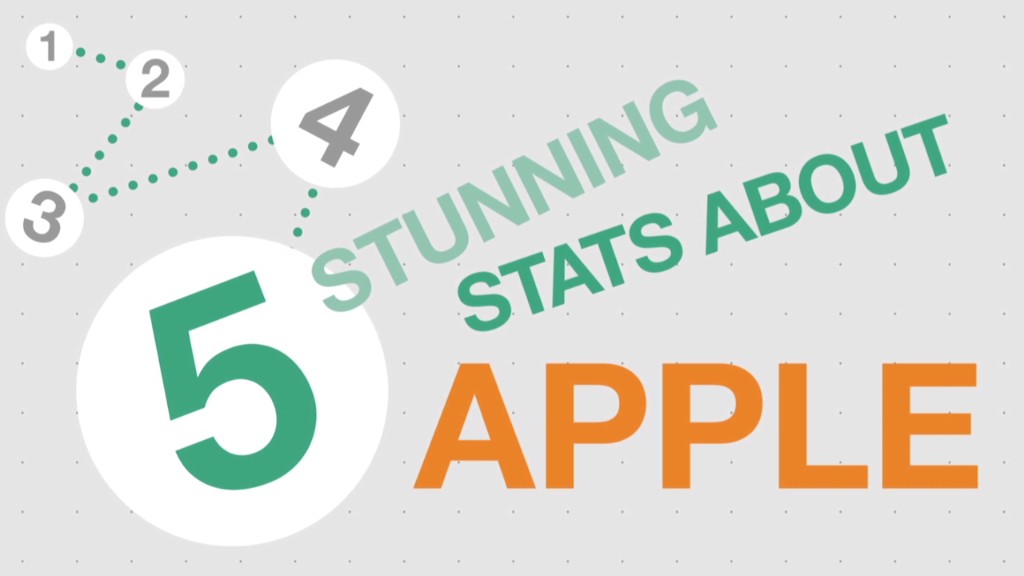 Bad news for Apple. The company is worth about $40 billion less than it was yesterday.
Good news for Apple. The company has $203 billion in cash on its balance sheet, becoming the first corporation ever to cross the $200 billion mark.
Apple's stock sank 5% Wednesday morning. The company had a solid quarter. But solid is not good enough when you're Apple (AAPL). Investors were disappointed that iPhone sales were a little lower than expected.
But make no mistake. Apple is not in financial trouble. It continues to mint money. The company reported cash flow from operations of $15 billion in its latest quarter.
That helped add to Apple's record cash hoard. The company had $193.5 billion at the end of April and $164.5 billion in cash at this time a year ago.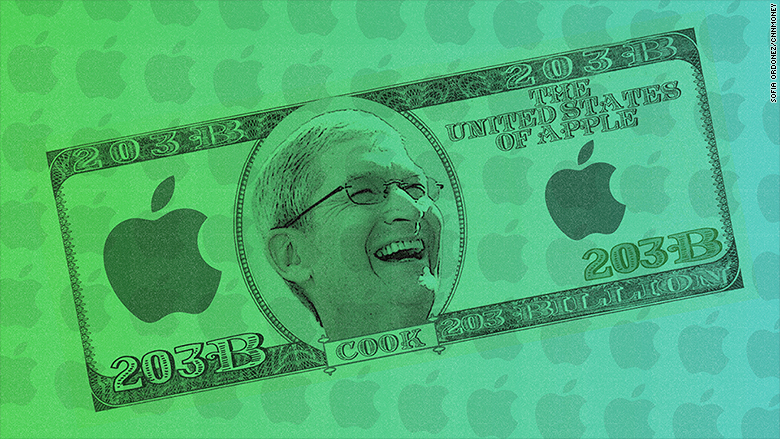 Related: Apple's stock tumbles as IPhone sales miss forecasts
If Apple keeps piling up cash at this rate, it's likely to have a quarter of a trillion dollars on its balance sheet at some point in the next year!
CNNMoney tech editor David Goldman and I have joked about all the things Apple could afford to buy with its cash. Every professional sports team in the U.S. Disney. Coke. Both Tesla and Uber.
Related: Apple's iPhone suppliers are getting crushed
But what's truly iStonishing about Apple's growing cash pile is the fact that it isn't exactly stingy with its money.
Apple chief financial officer Luca Maestri pointed out during the company's conference call with analysts on Tuesday that the company spent $4 billion during the quarter on stock buybacks and another $3.1 billion on dividends.
That's part of a broader plan to return $200 billion in capital to shareholders through buybacks and dividends. That's something which helps keep investor Carl Icahn happy.
Still, it's fair to wonder why Apple needs all this cash. It's one thing to save for a rainy day. But Apple seems to be acting like Noah and preparing for a 40-day flood.
Apple probably doesn't have to worry about an antitrust battle like the one Microsoft faced with the U.S. government in the late 1990s and early 2000s. Nobody is calling for Apple to be broken up.
It also would be a huge shock if Apple was adding to its cash reserves in order to pay for a massive acquisition.
While Apple has been more apt to do deals under Tim Cook's watch than when Steve Jobs was CEO, its biggest purchase so far was Beats Electronics last year. And that cost a mere $3 billion.
Apple may be waiting for tax changes in the United States before it puts more of its cash to use though. Maestri noted that $181 billion of its cash -- nearly 90% of the entire iMountain -- is held offshore.
Related: How we made $1 million on Apple stock
Apple is one of several big American tech companies that have been criticized for keeping much of their cash in foreign subsidiaries. Google (GOOGL), Microsoft (MSFT)and Cisco (CSCO) have also come under fire for this.
But If Apple moved this cash back to the U.S., it would face a massive tax bill.
So Apple has actually been going into hock to help fund some of its stock buybacks and dividends. The company raised $10 billion in debt last quarter and now has about $47 billion in long-term debt overall.
At some point though, Apple may face even more pressure to do something productive with its $200 billion war chest instead of letting it collect dust in Ireland and other tax havens.