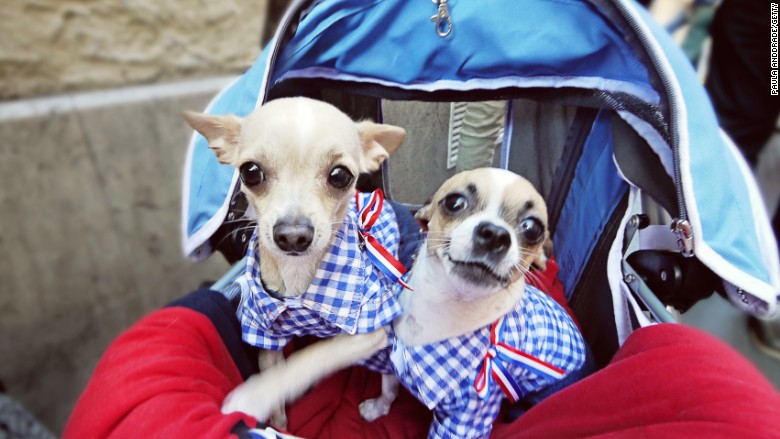 Healthy food isn't just for humans anymore.
At least that's the bet investors are making as they feast on shares of Blue Buffalo (BUFF), the fastest-growing pet food company in the U.S.
Blue Buffalo raised $676 million this week by selling shares to the public. Investors were hungry to get a piece of the action as the initial public offering priced at $20 per share, well above the expected range.
Shares of Blue Buffalo opened on the Nasdaq at $27 on Wednesday morning, marking a healthy 35% bump from the IPO price. At that level, the dog and cat food maker is being valued at $5.3 billion.
Pet food might not be the sexiest business to be in, but Blue Buffalo offers some attractive characteristics.
Related: This cybersecurity IPO is on fire
Healthy food -- for your dog: First, it's growing rapidly in an overall market that's sluggish. Blue Buffalo sales have exploded from $190 million in 2010 to $918 million last year.
That's because Blue Buffalo is the clear No. 1 player in the health-conscious corner of the pet food world. Think of it as the Whole Foods of pet food. Sales in this segment of pet food, known as wholesome natural, jumped 14% last year industrywide. That's very impressive considering overall pet food sales increased just 1% in 2014, down from 5% in 2012.
"It's a pure play on a high-growth segment," said William Preston, a research analyst at Renaissance Capital, which is a manager of IPO exchange-traded funds, or ETFs.
Rival pet food brands are part of larger conglomerates. Purina is owned by Nestle (NSRGF), Pedigree Petfoods is part of Mars, while Meow Mix is tucked inside Del Monte Foods. Earlier this year J.M. Smucker (SJM) paid more than $3 billion to acquire Big Heart, which makes Milk-Bone and Kibbles 'n Bits. Freshpet (FRPT) went public last year, though its shares have retreated since April.
Related: Is this salad chain the next Chipotle?
Humanization = pricing power: Blue Buffalo, which was founded in 2002, is capitalizing on the "humanization" of pets. Americans are increasingly treating their cats and dogs like an extension of the family. That means they are willing to pay up for premium products if it's in the best interest of their pets.
That pricing power gives Blue Buffalo strong margins that other consumer packaged goods companies would kill for. That's why unlike many newly-public companies, Blue Buffalo is consistently profitable. It generated $102 million in net income last year, up 30% from the year before.
Blue Buffalo has been able to lean on its experienced management team. It was founded by Bill Bishop and his sons, Billy and Chris. Billy helped create SoBe Beverages, building the company's brand before it was sold to Pepsi (PEP) in 2001.
Related: You can now buy shares of FitBit
Competitive pressures: But for Blue Buffalo to be a strong performer in the future, it will need to stay ahead of its rivals. The pet food industry is very competitive, forcing brands to offer discounts that eat into profits. Just look at how Blue Buffalo said first-quarter sales were hurt by a decrease in pricing driven by "higher levels of promotional activity."
"Longer term, you have to wonder: How much of a premium can Blue Buffalo command and for how long?" said Preston.
That concern will be magnified should the economy stumble, forcing consumers to cut back on luxuries like healthy food for non-humans.
Blue Buffalo also has to worry about threats to its reputation as a maker of healthy pet food. Last year Purina filed a lawsuit alleging Blue Buffalo engaged in false advertising by including chicken and artificial preservatives in certain products.
"The margin of error you have for a misstep is much smaller when you are creating a brand with this sort of focus and customer base," said Preston.