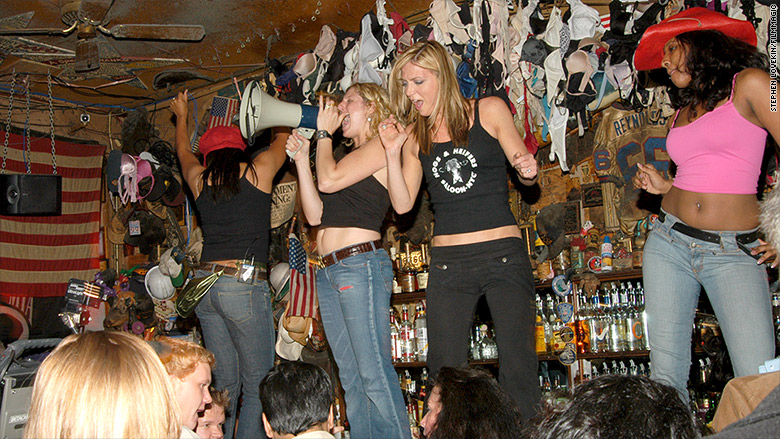 New York City's legendary Hogs & Heifers Saloon, known for its wall of bras, is closing its doors -- the latest victim of the city's skyrocketing rents.
"The news is true, but don't cry for us, come and party the hell out of the final days with us!" tweeted the bar's staff and posted it on the Hogs & Heifers web site.
The tweet links to the New York Daily News, where owner Michelle Dell said the monthly rent jumped to $60,000 a month from $14,000. Dell, who co-founded the bar 23 years ago, said she's unwilling to start charging customers $17 for a can of Pabst that currently costs $3 at the bar.
Dell blames the real estate firm Thor Equities for the rent increase. Thor, which bought the Meatpacking District building in 2013 for about $100 million, did not immediately return requests for comment.
Hogs & Heifers opened during the so-called bad old days of New York City, when the now-posh Meatpacking District was still gritty.
It billed itself as a "rock-n-roll dive bar" rolling with the theme of "motorcycles and women." Bartenders and patrons were encouraged to dance on the bar and nail their bras to the wall.
Related: Watch the pot ad that got banned from TV
Over the years, the bar collected many bras, and also many photos of visiting celebrities. One vintage photo, shown in the News story, depicts the late owner Alan Dell with a baby-faced, leather-clad Brad Pitt with a tired-looking Gwyneth Paltrow, who appears unimpressed by the Bud-drinking shenanigans.
The bar eventually became the haunt of tourists, who will have to find some other place to play, like Las Vegas, where Dell owns another Hogs & Heifers Saloon just a couple blocks from the Strip.
It is unclear exactly which date the New York location is closing. The staff did not immediately return messages.